"The Ministers of Foreign Affairs, as well as of the economy and finance of France, Germany, Great Britain and the High Representative for Foreign Policy decided [in a letter] to make joint requests to their American counterparts, Secretary of State Mike Pompeo and Minister Stephen Mnuchin, on the exempt EU legal entities and individuals from the extraterritorial effects of US secondary sanctions," an EU representative told Sputnik.
READ MORE: France, Germany, UK Demand US to Refuse From Sanctioning Their Companies in Iran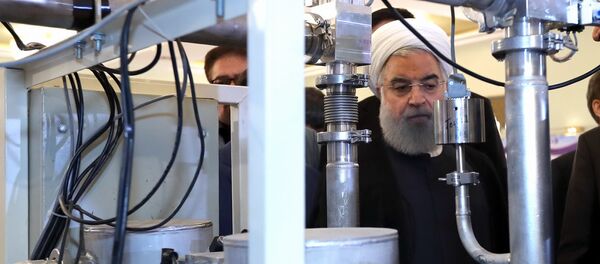 According to the official, the request includes "confirmation that secondary sanctions will not be applied to pharmaceuticals and health care," and "a request for exclusion for key sectors — energy, automotive, civil aviation and infrastructure projects", as well as "ensuring proper banking and financial channels."
These measures, the spokesman explained, "are aimed at reducing the risks that US secondary sanctions can pose for business and economic operators."
"They will be supported by specific requests from companies that will be considered by these companies and supported by the authorities of specific countries," the source said.
The letter notes that all the mentioned countries "would welcome the constructive approach of the US authorities on these issues of concern."
READ MORE: American Companies Prepare to Exit Iranian Market Due to US Sanctions — Reports
Recently, the EU has again expressed regret over the US decision to withdraw from the Joint Comprehensive Plan of Action (JCPOA), also known as the Iran nuclear deal and confirmed its commitment to support it as long as Iran complies with its obligations.