"There are 192 who were reported missing. We have their names, age and place of origin," Cabanas said at a press conference, as quoted by the Guatemalan government press service.
This is terrifying! Volcano erupted in Guatemala killing 33 people and 1.7m are affected by it. If you you'd like to help, please reach out to the Red Cross who are there assisting. pic.twitter.com/xDFbdOTj03

— LFC Podcasting Couch (@PodcastingCouch) 5 июня 2018 г.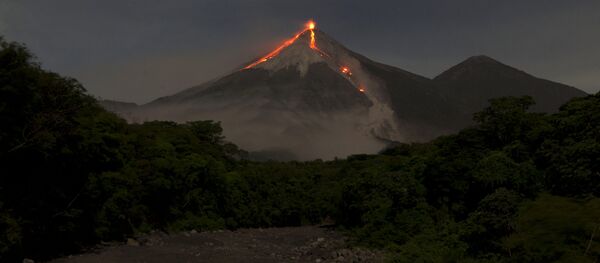 The country's National Institute of Forensic Sciences said on Tuesday that bodies of 75 people were found, while only 23 were identified.
The volcano Fuego located some 25 miles west of Guatemala City erupted on Sunday. Guatemalan President Jimmy Morales declared on Monday a three-day period of national mourning.
The US Geological Survey (USGS) reported earlier that a 5.2 magnitude earthquake has stricken Guatemala a day after a deadly volcanic eruption occured. An epicenter was located some 104 kilometers south-southwest of the town of Champerico and had an approximate depth of ten kilometers.
The local-based media outlets reported earlier that dozens of people were missing with over 3,000 more having been evacuated from the affected areas. The Guatemalan authorities said earlier they fear the death toll would increase.
​