As the stifling midday sun sizzled down on Whitehall, the leaders of the UK and Israel were said to be having lunch, a presumably sociable break in an otherwise tense day, concentrated on serious discussions about the Iranian nuclear deal — or lack thereof.
US President Donald Trump pulled out of the agreement with Tehran in May, and Netanyahu has lobbied for European leaders to follow suit — but the British Prime Minister remains committed to the deal, insisting it will make the world a safer place, reining in Iran's alleged nuclear ambitions.
May is not unique in this regard — Netanyahu's European tour took him to Germany on Monday to meet with Chancellor Angela Merkel, and France on Tuesday to meet President Emmanuel Macron, and both visits were punctuated by press conferences at which the respective leaders voiced yet-opposing views.
Two Sides
While May and Netanyahu munched, pro-Palestinian objectors bearing flags, banners and signs gathered to occupy an area opposite the imposing wrought iron gates of Downing Street — a prime spot of real estate shared with pro-Israel activists, who set up camp mere yards away. The two groups were joined by a large number of police.  
Among the pro-Palestinian contingent were both independent individuals, and members of groups such as Stop the War, Friends of Al Aqsa and the Palestinian Solidarity Campaign — academic Kamel Hawwash commenced proceedings, issuing a speech condemning Israel for its action against the Palestinian people, in particular the upsurge of violence on May 14 that saw over 60 Palestinians killed and more than 2,700 injured in clashes with the Israeli Defense Forces (IDF).
"The law states the government cannot sell weapons that will be used in atrocities, but can anyone say with certainty no British weapons were used to kill Palestinians? Our Middle East Minister, Alistair Burt, couldn't. When he was asked about it in parliament, he said 'no'. He claimed while risk assessments were conducted before issuing licences, the government had no idea what happened afterward. Theresa May should be telling that war criminal Netanyahu the arms trade will cease completely. Britain must stop selling arms to this terrorist state," Hawwash fulminated.
His words received a ripple of cheers amongst pro-Palestinian gatherers — and a shrieked chorus of "lies!" from the pro-Israel contingent. Among them, proudly holding aloft one of many sizeable Israeli flags billowing in the summer breeze, stands Mandy Blumenthal. Her views couldn't be more divorced from those of Hawwash.  
"We warmly welcome Netanyahu to the UK. I'm a big fan, and very much support his democratically-elected government — it's for the citizens of Israel to vote on what happens, and he represents them. I'm so happy the UK and Israel have such warm relations — it's a great thing for citizens in both countries. It's sad Hamas — a proscribed terrorist group — has such a grip on Gaza and is inflicting such terror on everyone on every side in the area. They're the ones who need to be held accountable," Mandy told Sputnik.
© Sputnik
Pro-Netanyahu protesters in Whitehall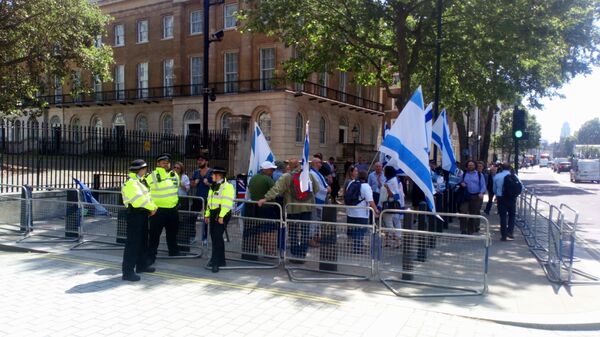 Pro-Netanyahu protesters in Whitehall
Her views are strongly echoed by a fellow flag bearer, who doesn't offer his name.
"We're here to support Netanyahu, to show people still support Israel in this world. The country is helping us all with technology, health and science. We're here to say yes for Israel. Thanks so much Bibi, you're doing a great job of representing us!" he says.
Back up the road, a pro-Palestinian protester, who wished to remain anonymous, eyes Netanyahu's fan club with contempt, and suggests they should try living in Palestine to "see what they face."
"They come in the middle of the night to snatch children from their homes. They demolish houses, schools and businesses, they're about to destroy a whole village! Thousands are in prison. The new houses they build are only for Jewish people. The occupation is totally illegal. It's no wonder children there hate Israel — imagine coming back from school to find rubble. The international criminal court should hold them to account. Netanyahu should be in the Hague," he says.
© Sputnik
Protesters in Whitehall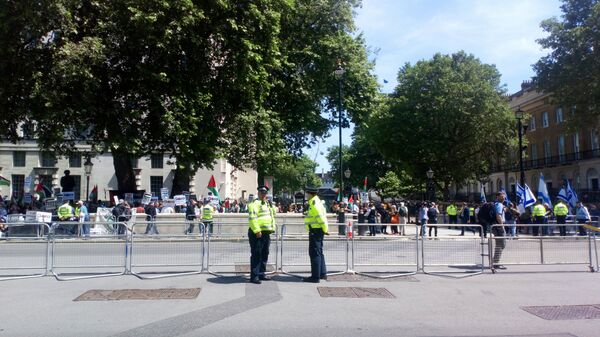 Protesters in Whitehall
Coffin for Netanyahu
The heavy police presence outside the gates of Downing Street was not sufficient to deter one intrepid pro-Palestinian protester, who marched right up to the police gathered there and began screaming and shouting slogans through the bars, presumably hoping they might reach Netanyahu's ears, and/or disrupt his luncheon.
© Sputnik
A protester demonstrates with police outside Downing Street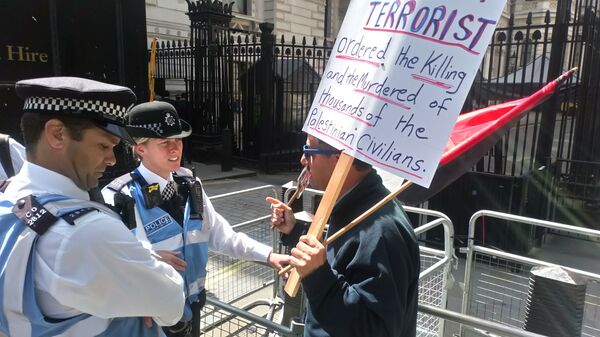 A protester demonstrates with police outside Downing Street
Despite ranting about his desire for the world to "take his message," attempts to engage the individual in conversation prove fruitless — he accuses Sputnik's on-the-ground journalist of working for the Israeli government. Still, he's more than happy to fulminate loudly at officers calmly attempting to move him away from the immediate area, and back to the designated protest zone.
"I'm here for Palestine, you must understand that. This is intimidation. Don't use your hands on me. Show me the law. Go away. You are stopping me from protesting peacefully. I have right to be here," he rages.
© Sputnik
Pro-Palestinian protesters carry a coffin to 10 Downing Street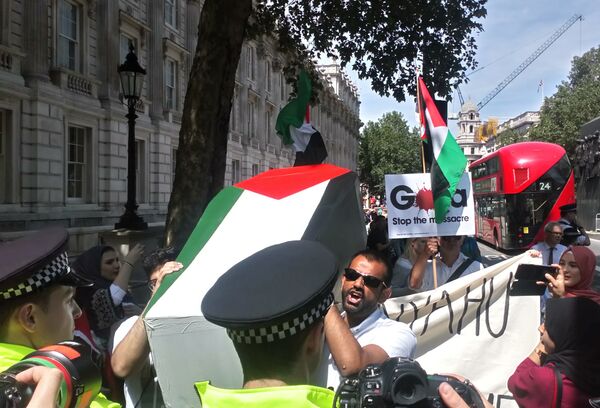 Pro-Palestinian protesters carry a coffin to 10 Downing Street
Over the course of several aggressive minutes, he appears to teeter on the brink of arrest — but respite arrives in the form of a small but deafening group of protesters, who materialize in the vicinity bearing a mock-up coffin painted in the colours of the Palestinian flag and a large banner reading 'Netanyahu #NotWelcome', who bellow slogans over and again.
Their intervention lasts some time. Once shooed back across the road by police, chief coffin carrier Shamiul, of Friends of Al-Aqsa, stops to speak to Sputnik.
"Over the past nine or ten weeks we've seen over 119 Palestinian protesters killed, snipered, killed by tear gas inhalation. They were peacefully protesting. We're asking our Prime Minister to impose sanctions upon Israel and to abide by international law to stop building settlements illegally, and end the siege of Gaza. Our Prime Minister should be condemning these atrocities," he says.