"I have been in politics for 37 years. For almost 14 years I was in the government and for eight years I led the opposition. There is no sense in going on. I intend to abandon politics entirely. There are other things which I can do. It was an honor to serve my country," Rajoy told radio COPE, adding that he had been devoting too little attention to his family and now planned to catch up.
Answering a question on the future PP leader, Rajoy said that he had "no favorites" and that the choice should be made by the party. The politician also noted that he wished the party to remain united as it faced difficult times.
READ MORE: Spanish Intelligence Claims Russia Attempted to Meddle in Catalan Crisis
On Tuesday, Rajoy announced that he was stepping down as People's Party (PP) leader. Rajoy planned to stay in the PP as an ordinary member "at the disposal of the chairman."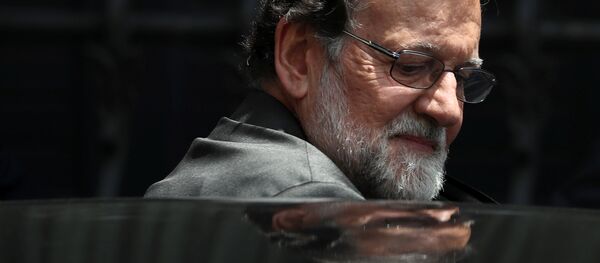 On May 1, the Congress of Deputies supported the
no-confidence
motion initiated by the Spanish Socialist Workers' Party's (PSOE) against Rajoy in relation to the recent Spanish court ruling that found members of the ruling PP guilty of various corruption offenses in the graft case. As many as 180 lawmakers out of 350 voted to oust Rajoy. PSOE leader Pedro Sanchez became the country's new prime minister.