Grohl, the Foo Fighters' guitarist and singer, made a spectacular entrance at Gothenberg's Ullevi Stadium in Sweden during a performance June 5. As the band entered the stage, roaring power chords and smashing cymbals amid rolling cinematic smoke, the frontman went to the protruding front part of the stage… and fell down spectacularly, still gripping his guitar.
Three years ago, at the same venue, Grohl fell of the stage and broke his leg. But rock won't be stopped by mere broken bones: after an hour of the rest of the band, led by drummer Taylor Hawkins, playing various covers, Grohl returned to stage — on the stretcher — to finish the concert.
"You have my promise right now that the Foo Fighters — we're gonna come back and finish this show. But right now, ladies and gentlemen, I'm gonna go to the hospital, I'm gonna fix my leg. But then I'm gonna come back and we're gonna play for you again! I'm so sorry," he told the crowd at the concert.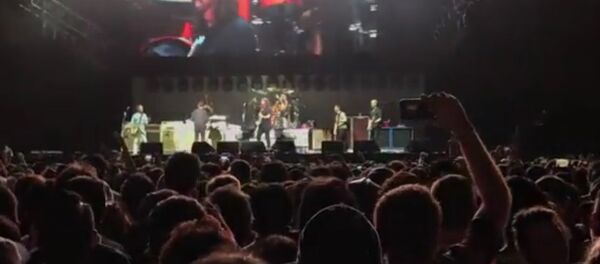 21 August 2017, 13:33 GMT
And if you thought the band has cancelled its tour — not a chance. Grohl kept performing from an awesome-looking throne, adorned with scenic lights and innumerable guitars.
This year's fall, however, turned out to be a mere prank performed by a stunt double. After stunning the audience, the real Grohl entered the stage and the band went on with the performance as usual — And yes, Grohl successfully made it through the end staying on the stage.
The American rock band is currently on their European tour, with their next two performances scheduled for June 10 and 11 in Germany and Belgium, respectively.