Israeli Prime Minister Benjamin Netanyahu and Syrian President Bashar Assad discussed the possibility of Golan Heights being returned to Syria during two rounds of "serious" negotiations that were held during the past decade, The Times of Israel reports citing Netanyahu's former adviser Uzi Arad.
According to Arad, the first round of talks was held in 2009 but came to a halt as Syria rejected the proposed territorial swap which would result in Israel retaining control over most of the Golan Heights.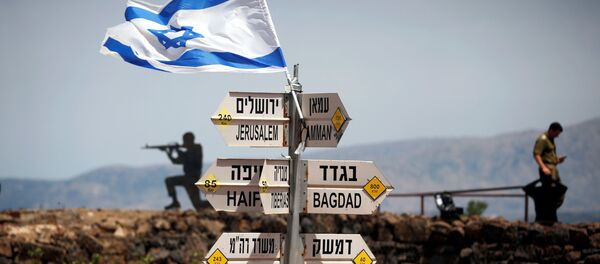 The second round of negotiations was allegedly initiated in 2010 under the auspices of the Obama administration, and did not yield any concrete results as well.
The former adviser also added that during both rounds of negotiations the Syrian government demanded a full withdrawal of Israeli forces from the Golan Heights region, and that Netanyahu did not immediately dismissed the idea.
"It was clear that the Syrians wanted to return to the 1967 lines, and despite this Netanyahu didn't abandon the talks, there was no moment in which he said 'over my dead body,'" Arad said.
The newspaper points out that the Prime Minister's Office denied these reports and insisted that the Israeli government is fully committed to maintaining control over the Golan Heights.
At the same time, Damascus has yet to comment on the media report.
Earlier, Israeli Israeli Finance Minister Moshe Kahlon has expressed his full support for the project to develop the Golan Heights over the next decade. The plan promises rapid development of the territory and a significant increase in its population, from the current 22,000 people to 100,000.
READ MORE: Israel to Boost Golan Heights' Population, Development Amid 'Security Danger'
Golan Heights is a swathe of Syrian territory that was seized by Israel during the course of the Six Day War in 1967 and subsequently annexed in 1981 – an act which is not recognized by the international community.
In 1981, the UN Security Council passed a resolution stating that the Israeli law on Golan Heights' annexation is "null and void and without international legal effect", and called upon Israel to rescind the act.
Israel however insists that this move was justified and was aimed at safeguarding the country's borders from aggressive military acts.
Damascus regards Golan Heights as Syrian territory occupied by Israeli forces and seeks to restore its sovereignty over the region.