"We have heard about such statements in the world media, but we in Qatar reaffirm the principle of the sovereignty of states, their right to defend themselves, and to enter into legitimate deals with other countries. Thus, even if the Saudi statement is true, we completely reject it," Qatari ambassador to Russia Fahad bin Mohammed Al-Attiyah said, speaking to Sputnik.
The world does not live in an "era of the law of the jungle based on threats," the ambassador added.
"We have consistently cooperated with the Russian side on all issues, including defense, and Qatar strives to strengthen this sphere," Al-Attiyah stressed. "No one has the right to interfere in the internal affairs of Russia and Qatar; this is a sovereign right…I consider this position [by Riyadh] to be a gross violation of the internal affairs of Russia and Qatar," he added.

The envoy's remarks follow a report in Le Monde over the weekend indicating that Saudi King Salman bin Abdulaziz had sent letters to US and European leaders, including French President Emmanuel Macron, in which he
warned
about the possibility of 'military action' against Doha if it purchased the Russian-made air defense systems. Saudi officials have yet to confirm the contents of the King Salman letter reported on by Le Monde.
Qatar's envoy to Russia earlier confirmed that Doha was considering the purchase of Russian air defense systems, with media specifying that the Gulf country was interested in the S-400 air defense system, currently the most advanced air defense system in Russia's arsenal. The two countries signed an agreement on military-technical cooperation last year during Russian Defense Minister Sergei Shoigu's visit to Doha.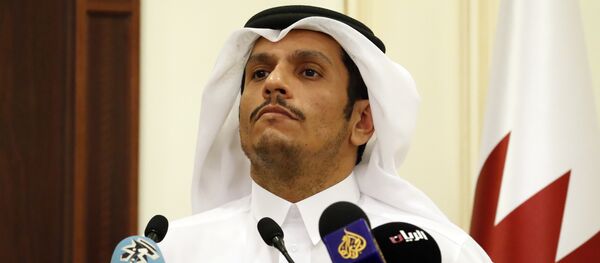 Last week, Aleksei Kondratyev, deputy chairman of the Russian Senate's Committee on Defense and Security,
said
that if the sale of S-400s to Qatar goes ahead, the decision will not be affected by opposition from Saudi Arabia. The lawmaker suggested that Riyadh may have been pressured by Washington in order to avoid losing the US share of the lucrative regional weapons market.
Relations between Riyadh and Doha collapsed in June 2017 following a diplomatic crisis which led to a Saudi-led blockade of the tiny Gulf monarchy. Four Arab countries, including Saudi Arabia, Egypt, Bahrain and the United Arab Emirates slapped Qatar with an embargo, accusing Doha of contributing to the financing of international terrorism. Qatar firmly denied the charges.