It seems that US President Donald Trump is not going to temporize with his European partners, which may deepen the rift between Washington and the EU during the G7 summit taking place in La Malbaie, Canada, on June 8-9.
On the eve of the meeting, the US president engaged in a Twitter spat with French President Emmanuel Macron and reportedly blindsided Canadian Prime Minister Justin Trudeau with a question in response to the latter's remark about US tariffs: "Didn't you guys burn down the White House?" citing the War of 1812.
Having arrived in Quebec, Trump has once again shown that he is not going to make it easier for the G7 participants.
Looking forward to straightening out unfair Trade Deals with the G-7 countries. If it doesn't happen, we come out even better!

— Donald J. Trump (@realDonaldTrump) June 8, 2018
"Looking forward to straightening out unfair Trade Deals with the G-7 countries. If it doesn't happen, we come out even better!" he tweeted.
The US president also bemoaned the fact that the summit had diminished in size:
"You know, whether you like it or — and it may not be politically correct — but we have a world to run and the G7, which used to be the G8, they threw Russia out, they should let Russia come back in because we should have Russia at the negotiating table," he said.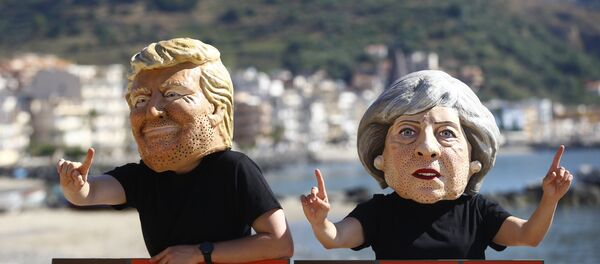 The major bone of contention between Washington and its European, Canadian and Japanese allies is Trump's 25 percent tariffs on steel and 10 percent tariffs on aluminum imports which entered into force on June 1. Additionally, the White House is threatening to impose up to 25 percent tariffs on car imports, citing national security matters.
Another problem is the US withdrawal from the 2015 Joint Comprehensive Plan of Action (JCPOA), also known as the Iran nuclear deal, and the subsequent resumption of sanctions against the Islamic republic, which are likely to come into effect in early August. The measure has already hit European businesses as some of the continent's corporations are now winding down their operations in Iran.
Ahead of the summit, Macron signaled his willingness to have a frank discussion with President Trump at the G7.
"The American president may not mind being isolated, but neither do we mind signing a 6 country agreement if need be. Because these 6 countries represent values, they represent an economic market which has the weight of history behind it and which is now a true international force," Macron tweeted on June 7.
He also remarked that "the six other G7 countries combined form a larger market than the American market. This must not be forgotten."
Speaking at the joint press conference with Trudeau, Macron dropped a hint that the EU and the US are heading to nothing short of a trade war.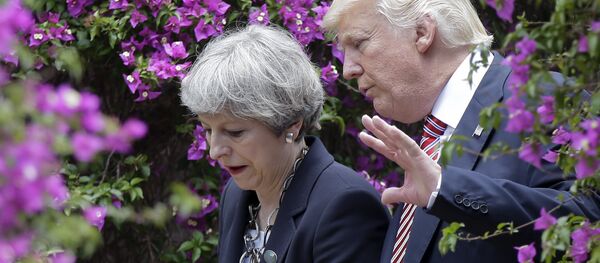 "A trade war doesn't spare anyone," Macron said. "It will start to hurt American workers, the cost of raw materials will rise and industry will become less competitive."
The French president pointed out that although G7 participants were seeking to reach to a mutually beneficial compromise, they "are not ready to give up everything to get" Trump's signature.
German Chancellor Angela Merkel, known as an old opponent of Trump, noted that the talks are going to be tough: "It is apparent that we have serious problems with multilateral agreements, and so there will be contentious discussions," Merkel told the German Parliament.  
EU Intervention Force
However, on June 3 Merkel for the first time openly endorsed Macron's idea of creating a European "intervention army" while speaking to the Frankfurter Allgemeine newspaper: "I am in favor of President Macron's proposal for an intervention initiative," she said.
In September 2017, Macron called upon the bloc to form an EU army and shared defense budget. He echoed European Commission President Jean-Claude Juncker's vision voiced back in 2014.
In the very long run, we will need a European army. Because we have to be credible when it comes to foreign policy #wahlarena #withJuncker

— Jean-Claude Juncker (@JunckerEU) May 20, 2014
"In the very long run, we will need a European army. Because we have to be credible when it comes to foreign policy," Juncker tweeted.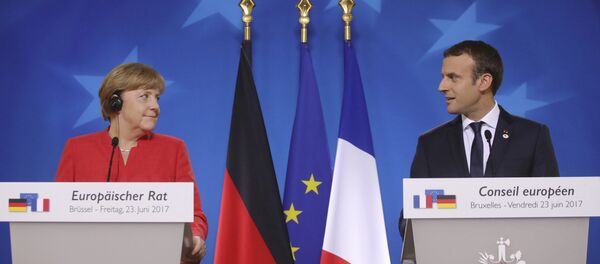 The move has been long regarded as an apparent attempt to reduce Europe's dependence on Washington, the EU's foremost NATO ally. It has taken on a new significance amid the Trump administration's
demand to spend more on the Atlantic alliance
.
On May 17, Trump yet again raised the question of Europe's military donations to NATO, criticizing the bloc's member states for not meeting their 2 percent commitment. While speaking to NATO Secretary-General Jens Stoltenberg, Trump singled out Germany.
"In particular, Germany must demonstrate leadership in the alliance by addressing its longstanding shortfall in defense contributions," Trump said.
Brussels' Retaliation
The EU is seemingly distancing itself from Washington.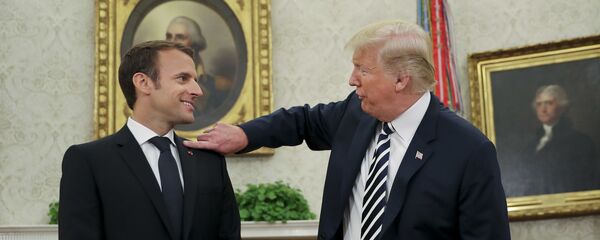 On June 6, the European Commission announced that it was going to impose retaliatory measures against the US, regardless of Trump's earlier warning that such steps could prompt a backlash from Washington.
EU member states are expected to impose 25 percent duties on 2.8 billion euros ($3.3 billion) of US goods from July 1. For comparison's sake, EU products that fell under US protectionist measures are worth 6.4 billion euros ($7.53 billion).
For its part, Canada signaled that it would introduce retaliatory tariffs on $12.9 billion worth of US exports since July.
However, the White House is not raising the alarm over the current developments. According to Trump's top economic adviser, Larry Kudlow, the ongoing trade dispute is "a family quarrel," refuting assumptions that it could translate into an all-out "trade war."