Russian President Vladimir Putin noted during an annual question and answer period on Thursday that Vyshinsky had been arrested by Kiev for his professional activities in an unprecedented and unacceptable move.
Nationalism, Not Democracy Drives Kiev Government
Vyshinsky's lawyer Andrei Domansky told Sputnik on Friday, after visiting his client in the detention facility in the Ukrainian city of Kherson that Vyshinsky's health was deteriorating due to poor nutrition.
University of Rhode Island Professor of Peace Studies Nicolai Petro said the dynamics of domestic Ukrainian politics were pulling the country in an increasingly nationalist direction and away from media freedom of expression.
"It [Kiev] is… driven, first and foremost by the imperatives of its own nationalistic ideology [not by values like free press]," Petro said. "It cannot be seen to be moderating its enthusiasm for the de-Russification of the public sphere, which includes the media."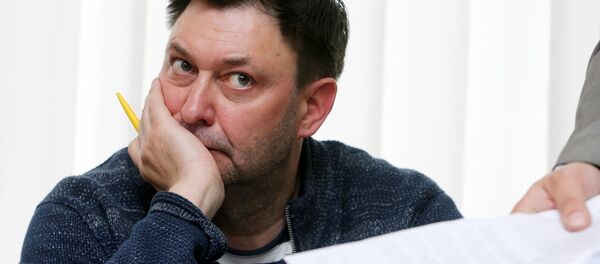 The roots of this extremist dynamic lay in the nature of the violent 2014 Maidan Revolution that toppled the democratically-elected government of President Viktor Yanukovych, Petro recalled.
"The current Ukrainian regime is still the one installed by the 2014 Maidan. It is therefore driven, first and foremost by the imperatives of its own nationalistic ideology," he said.
Poroshenko's Core Base Demands Purge of Media
To appease its core base of political support, which is in Western and Central Ukraine, the government of President Petro Poroshenko cannot be seen to be moderating its enthusiasm for the de-Russification of the public sphere, which includes the media, Petro explained.
"Since appeals to preserve minority rights and allow regional cultural diversity run counter to the raison d'etre of the regime, they are destined to fall on deaf ears," he said.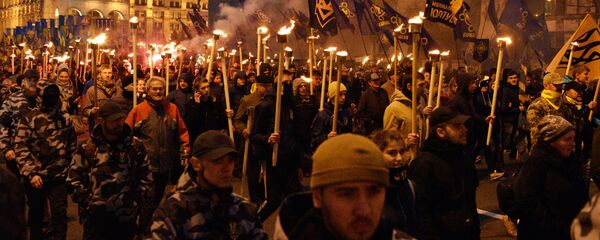 14 October 2017, 20:46 GMT
Successive US administrations and their Western European allies had put up with similar behavior for many years from the Baltic States so there was no reason to expect them to protest significantly to Kiev over Vyshinksy's plight or similar incidents, Petro advised.
"Given the experience of the Baltic States, which pursue similar policies, Ukraine is not likely to suffer any consequences for this," he said.
Nor was Poroshenko likely to heed Western protests on behalf of freedom for expression and human rights even if they were made, Petro commented.
"As important as Western aid is to the stability of Ukraine, there are limits to its influence," Petro said.
Neo-Nazis Certain to Keep Media Repressed in Ukraine
The powerful influence of Neo-Nazis and other extremists at the highest levels of the Kiev government would ensure that press freedom would continue to be intimidated and suppressed in Ukraine, California State University Chico Professor Emeritus of Political Science Beau Grosscup cautioned.
"In Ukraine, the work of the CIA and the National Endowment for Democracy (NED) to overthrow a democratically elected government with Neo-Nazis in high government positions gave lip service to a free press but never had any intention of doing so," he said.

Grosscup pointed out that US governments had for generations preached the virtues of freedom of the press as a general principle but had repeatedly refused to make efforts to ensure it in the many dictatorial regimes around the world that they supported.
"The question assumes that freedom of the press is a core value for US foreign policy. The historical record of supporting dictators and their control over media outlets is well documented," he said.
The Trump administration's silence on the suppression of a free press and of freedom of expression in Ukraine was consistent with similar policies that it followed in other nations around the world, Grosscup observed.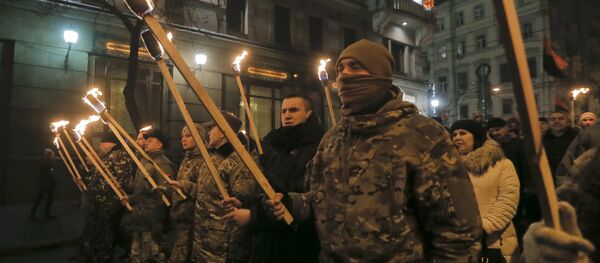 "It is the same thing going on at present in [US] regime change efforts in Nicaragua and Venezuela," Grosscup said, adding that the United States continued to pay lip service to a free press and other "trappings" of democracy.
"But as Ukraine and Honduras demonstrate, it is only that," he added.
Ukrainian Internet providers have started blocking the access to websites of the RIA Novosti and RIA Novosti Ukraine news agencies after Poroshenko had signed a decree on sanctions against Russian media, Sputnik reported last week.