Russian author and analyst Dmitry Lekuh believes that the approval granted by Sweden for the Nord Stream 2 pipeline project wasn't "critically important" and that even if Stockholm had continued to oppose the new pipeline, it could have simply bypassed Swedish waters.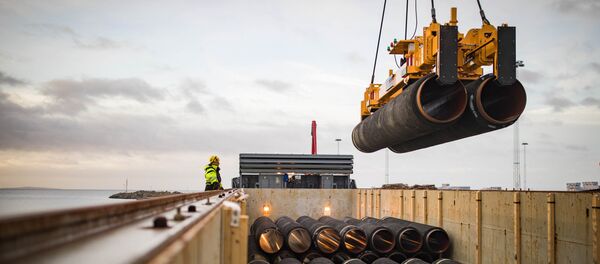 Therefore, he explained, there was simply no reason for Sweden to antagonize Russia and Germany, not to mention the European industrial and energy giants, over this issue.
Lekuh also argued that the successful construction of the Nord Stream 2 natural gas pipeline is "a matter of survival" for Europe's industrial enterprises.
"Their own natural gas deposits are nearly depleted. Liquefied natural gas (LNG) is too expensive. And if European machine building, electronic and chemical industries lose access to the relatively cheap pipeline gas (Russian, Dutch, Norwegian, Algerian or even Martian, it doesn't matter), they risk having their products lose their competitive edge on global markets," Lekuh said.
READ MORE: Third States Shouldn't Threaten Nord Stream 2 With Sanctions — German Politician
At the same time, he noted, Russia's natural gas reserves are vast but not limitless, which leads Moscow to carefully consider its options and seek a balance between pipeline contracts and the "quite lucrative LNG market."
"The moment that Putin and Erdogan signed the Turkish Stream agreements, it became clear that nothing would interfere with the Nord Stream 2, because at that moment European energy giants realized that they're losing the initiative," the analyst surmised.
Earlier this week, Swedish Foreign Minister Mikael Damberg said at a special briefing that Stockholm gave its approval "to Nord Stream 2 to lay a gas pipeline in the economic zone of Sweden in the Baltic Sea."
READ MORE: Swedish Government Approves Construction of Nord Stream-2 Pipeline
The Nord Stream 2 project includes two gas pipelines that will run from the Russian coast through the Baltic Sea to a hub in Germany. It is a joint venture between Russian energy giant Gazprom, French Engie, Austrian OMV AG, UK-Dutch Royal Dutch Shell, and German Uniper and Wintershall.
The projected annual capacity of the pipeline is 55 billion cubic meters of gas, with the venture's estimated cost being almost 10 billion euros.
The views and opinions expressed by Dmitry Lekuh are those of the speaker and do not necessarily reflect the position of Sputnik.