"We're planning various concerts and carnivals. The one we love the most is the carnival in honor of the Day of the Dead… We'll be holding it on June 29 and you'll get the chance to learn more about this tradition," Galindo told journalists.
Galindo added that large screens would be installed at the Mexico House to broadcast the World Cup matches, featuring the Mexican national team. "We're inviting all supporters, especially the Russian ones," he said.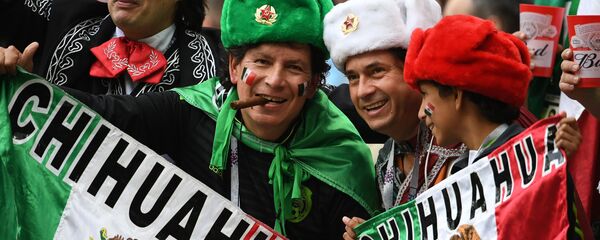 The Day of the Dead is a traditional Mexican holiday celebrated from October 31 to November 2 and associated with honoring friends and family members who have passed away.
Mexico's first game at the World Cup will be against reigning champions Germany in Moscow on June 17. The team will also face Sweden and South Korea in their other two Group F matches.
READ MORE: Regional Press Centers to Open in 10 Russian Cities Ahead of FIFA World Cup
Russia's first-ever FIFA World Cup will be held at 12 stadiums across 11 cities from June 14 to July 15