New Delhi (Sputnik) — Thousands of miles away from the venue of the 2018 FIFA World Cup in Russia, Kerala, the southernmost state of India, is bearing a festive look with people from all walks of life cheering their favorite football teams in their own ways. Spirited youths with unmatched enthusiasm are busy putting up posters and hoardings in support of their teams in one of the few football-loving regions in the cricket-crazy South Asian country. Kerala in India has had the distinction of democratically electing the first communist government in the world in 1957.
Not sure how many folks realise this, but Indian Football has undergone a sea change under @chetrisunil11, climbing from 150s to 97 on fifa world rankings. I think India can make a serious bid to compete in a 48 member World Cup in 8-10 years time

— बोधिसत्त्व (@Bodhisatvaa) June 10, 2018
Mynagapally, a village in the Kollam district in Kerala is a case in study for the football craze of this coastal state. The village is virtually divided into different fan clubs with each putting up a grand show to support their respective teams. Brazil and Argentina are the top teams with the greatest fan following, while Germany is also not far behind. Each of the fan clubs prepared for the World Cup months in advance with fundraising. 
Football's popularity is rising in India. No. of people who turned up to watch FIFA U-17 World Cup were same as IPL matches. India hasn't played in FIFA but we've potential. If potential is linked to opportunities, India will start playing in FIFA: Sports Min Rajyavardhan Rathore pic.twitter.com/KcIvlKe2U0

— ANI (@ANI) June 10, 2018
"The fans make donations to their respective clubs to facilitate village decoration which includes life-size posters, graffiti and tents for group viewing of matches. The collection is made transparent with a public display of accounts and if there is dearth of funds then we volunteer to contribute more," Ratheesh, a local cab driver in Mynagapally and fan of the Brazil team, told Sputnik.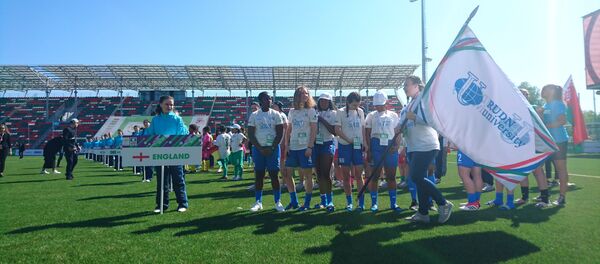 "Nightlong match screening is nothing short of a festival and we cheer for our teams with special prayers in the church and temples," he added.
There are some who say that with the coming of the digital age, the cheer and fancy on the ground has, to a great extent, moved to online platforms and mobile messages and there are many fans who are utilizing their time to defend and publicize their respective teams on social media and WhatsApp messages.
"Most of the fan clubs are full of oldies because the young ones are busy on mobile phones," Johnson, a tea shop owner told Sputnik.
READ MORE: FIFA 2018 World Cup in Russia Draws More Indian Fans Than Ever
The whole of the village becomes a sort of warring tribe for their respective teams and Brazil and Argentina fans are equally strong, he adds. 
Johnson is happy that the football season in Kerala means night long customers for his tea and snack stall.