"The long-standing hostile relations and the North Korean nuclear problem cannot be abandoned after only one attempted negotiations between the two leaders. For further comprehensive settlement, whose beginning was marked by the two leaders, a lengthy process is required. We cannot know whether it will last for a year, two, or longer," Moon indicated.
READ MORE: Trump-Kim Summit Agenda: Firm Peace, Korean Denuclearization — Reports
He also stated that it is necessary to establish a "chain reaction" in order to solve the Korean issues.
"If the intra-Korean relations improve, the relations between North Korea and the United States improve as well, and if the relations between North Korea and the United States become better, then the intra-Korean relations develop further," Moon said.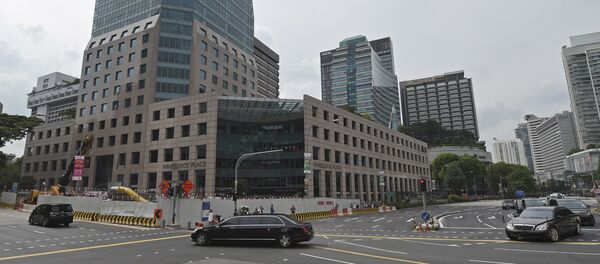 Donald Trump and Kim Jong-un both arrived on the long-awaited summit in Singapore, which would take place on June 12. It will mark the first-ever meeting of sitting leaders of the two countries. Previously, Trump said that if the Singapore parley is a success, he would invite Kim Jong-un to the White House. According to the South Korean Chosun Ilbo newspaper, Kim also
invited Trump to Pyongyang
for the second round of summit in July.