A 63-point plan on migration and asylum rules by Interior Minister Horst Seehofer, expected to be unveiled on Tuesday, has been put on hold after it apparently failed to get the green light from Chancellor Angela Merkel.
According to the daily newspaper Bild, Angela Merkel has objected to plans to turn back asylum seekers at Germany's borders who have already been registered and fingerprinted in another EU country.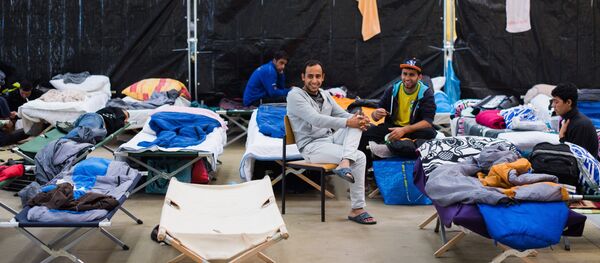 "I have a responsibility for this country, namely to steer and maintain order. And I cannot postpone it until hell freezes over," Seehofer said.
Horst Seehofer, the conservative former premier of Bavaria, has long been critical of Merkel's liberal migration policy which has allowed over one million asylum seekers into the country since 2015 and led to the conservative coalition's lackluster performance in last year's elections.
Seehofer's migration plan provides for stricter migration rules and faster deportation of failed asylum seekers.
"The number of deportations must be increased significantly. We need to take tougher action, especially in the case of criminals and perpetrators among asylum seekers," Seehofer said in March.
The government's liberal policies are also blamed for the rise of the rightwing  Alternative for Germany (AfD) party which is now the third-largest party in parliament.
Meanwhile, Ralf Stegner, the deputy leader of the Social Democratic SPD party — the third constituent in the ruling coalition – said that he has his own plan to handle migration and asylum issues.
"Those who want concrete proposals on asylum cannot rely on Seehofer and the CSU (Christian Social Union). That's why the SPD is now developing its own migration concept," Stegner said.
READ MORE: Seehofer's 'Islam Doesn't Belong to Germany' Remark Shakes the Country
According to the European statistics office Eurostat, Germany took in 325,400 refugees in 2017, accounting for almost 60 percent of the 540,000 migrants resettled last year. The statistics office said that about 33 percent of the migrants were from Syria, followed by Afghanistan, which accounted for 19 percent of the refugees. Refugees from Iraq accounted for 12 percent.