EU countries need to tighten their border security amid the influx of illegal migrants from North Africa and the Middle East. The German and Austrian Chancellors, Angela Merkel and Sebastian Kurz, as well as German Interior Minister Horst Seehofer, made this perfectly clear during joint news conferences on Tuesday.
"I welcome such good cooperation which we want to build between Rome, Berlin and Vienna. It is a sensible partnership, which will contribute to the reduction of illegal migration in Europe," Kurz said at a press conference following his talks with the German interior minister.
The chancellor further noted that such regional cooperation was justified because immigrants often arrived in Austria through Italy and, if unwilling to settle there, then went on to Germany.
Austria, which takes over the Presidency of the Council of the European Union on July 1, planned to focus on curbing illegal immigration and strengthening Frontex, the European Border and Coast Guard Agency, "not only in terms of personnel or finances, but also by providing new mandates," Kurtz stressed.
The chancellor explained that Europe needed to update its immigration policy, stressing that many EU states shared Vienna's position that it was up to Europeans, not illegal migrants, to decide who came.
Seehofer confirmed Germany's intention to join the trilateral group on illegal immigration.
Angela Merkel fully concurred with her Austrian counterpart on the need for the EU to ramp up border controls.
"I believe that we see eye to eye on the need to improve the security of the EU's external borders, I think it imperative for us to work out a balanced solution the problem," she said.
The Austrian chancellor earlier said that Europe should shift its attention away from the settlement of migrants on its territory to the defense of its external borders.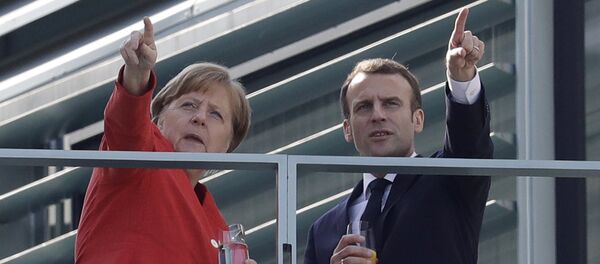 He added that Austria, which will be taking over the EU Council's rotating chair on July 1, will put the border security issue at the top of the Council's political agenda.
Sebastian Kurz has made cracking down on immigration a priority.
In May, he said that EU border patrol guards should be sent to northern Africa. He also supports the European Commission's plan to boost the number of Frontex border guards by 10,000 by 2027 and insists that the personnel boost "has to happen much faster."
Angela Merkel and her open-door policy have been blamed for the migrant crisis and the recent spate of terror attacks in Europe.
Europe is in the midst of its most serious migrant crisis since the Second World War, primarily caused by a rash of armed conflicts and economic problems in Africa and the Middle East.
READ MORE: EU Leaders Call for Tighter Borders, 'Greater European Cohesion'
According to the UN Migration Agency (IOM), more than 171,000 migrants and refugees entered Europe by sea during 2017, with just under 70 percent arriving in Italy and the remainder divided between Greece, Cyprus and Spain.