In a statement dated June 13, the Afghanistan-based Taliban* radical movement called on "American invaders" to leave the country and claimed it had liberated "vast areas" of the country.
The Taliban's chief, Haibatullah Akhunzada, has called for talks with the US, saying as quoted by Reuters that "if the American officials truly believe in a peaceful end to the Afghan imbroglio, then they must present themselves at the negotiating table."
READ MORE: Taliban Troop Strength Surges in Afghanistan Despite US Bombing Campaign
Hainatullah Akkunzada has also assured the Afghan people of "a bright future for our country accompanied by peace and prosperity".
He has blasted the United States' decision to move its Israeli embassy to Jerusalem. According to him, the US move "further exposes the absolute hatred of American officials towards Islam."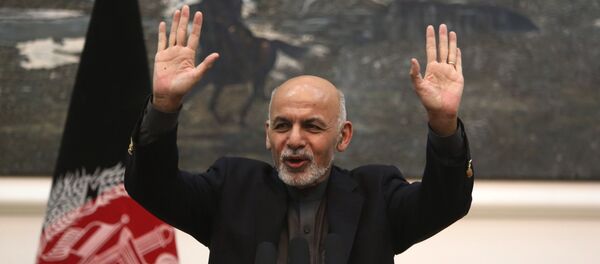 On June 9, the Taliban announced a surprise three-day truce over Eid al-Fitr, a religious holiday marking the end of the Muslim holy month of Ramadan. At the time, the group said it would halt offensives during the holiday period, with foreign forces and operations against them being excluded from the ceasefire.
The move came after the Afghan government had enforced a unilateral weeklong ceasefire with the Taliban during Eid. The government's decision followed a meeting of senior Afghan clerics in Kabul, who had issued a ruling against suicide bombings, one of which killed 14 people at the entrance to the clerics' peace tent.
READ MORE: Taliban Announces Eid Ceasefire With Afghanistan Authorities — Reports
According to the latest quarterly report by the US Special Inspector General for Afghanistan Reconstruction (SIGAR), the local government controls or influences 56.3% of the country's territory, with the remaining 43.7% of districts either being held by the Taliban or contested.
*The Taliban is a terrorist group banned in Russia