Veteran CSU politician Hans-Peter Friedrich stated in an interview on German television on Thursday that the CSU party "stood united behind Interior Minister Horst Seehofer" in the row with its allies, but there were no demands to end the cooperation with Angela Merkel.
Friedrich addressed media reports, which claimed that the coalition may be close to collapse because of the CSU position on the German "open doors policy."
"We're not far off a break," the Augsburger Allgemeine quoted an unnamed lawmaker as saying.
READ MORE: Kurz: German, Austrian, Italian Mins. Form 'Axis' Against Illegal Immigration
Previously, Interior Minister Horst Seehofer, a member of the CSU, had proposed his own "Masterplan for Migration," a blueprint for taking a tough line on the issue. The project would allow authorities to more easily reject migrants that reach Germany's borders. The conflict that erupted over the plan jeopardized the coalition government, which has been functioning for only three months.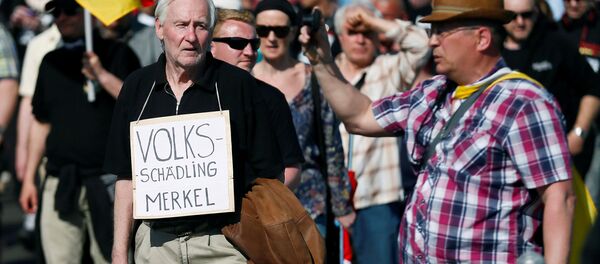 The coalition agreement was signed on March 12 by Merkel, who heads the CDU, Horst Seehofer, leader of the CSU, and the acting head of the Social Democratic Party (SPD) Olaf Scholz, after long and complicated negotiations.
The last parliamentary election in Germany took place in September 2017. The bloc composed of the CDU and its sister party, the CSU, won the election with 33 percent of the vote, or 246 seats in the parliament, failing, however, to secure a majority.