Syrian SANA news agency reported, citing a military source that one of US-led coalition aircraft had made an airstrike on the positions of the Syrian troops in al-Harra settlement, which is southeast of Al Bukamal, killing several servicemen and injuring others.
The Syrian city of Al Bukamal is apart of Deir ez-Zor Governorate and is situated near the border with Iraq.
US Department of Defense spokesman Adrian Rankine-Galloway told Sputnik later that neither Washington nor the US-led coalition was behind a reported attack on the Syrian troops.
"Not a US or Coalition strike," Rankine-Galloway said Sunday speaking about the reported attack.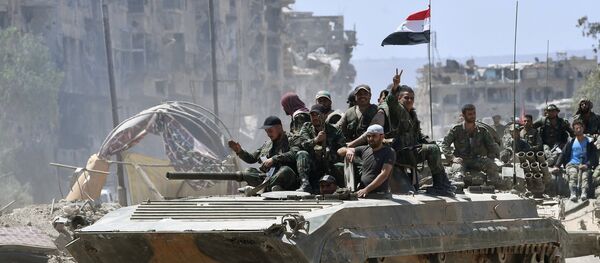 Previous month, Iran's
Fars news agency
cited sources as saying that a new US military base was being set up in the Deir ez-Zor province. The base, which, according to reports is located in the Badiyeh al-Sha'afa area, was to be equipped with "advanced military tools and systems".
The US-led coalition has been making airstrikes against what it calls Daesh* targets in Syria since 2014. The coalition's mission was approved neither by Damascus nor the UN. Currently, about 2,000 US troops are deployed in Syria.
---
*Daesh (ISIL/ISIS/Islamic State), a terrorist group banned in Russia, the United States and many other countries