New Delhi (Sputnik) — The Royal Monetary Authority (RMA) of Bhutan has informed the general public that individuals may bring in or take out of Bhutan the New Series of INR currency notes of denominations INR 500/-, subject to a limit of INR 25,000/- per person until further notice, while advising citizens to keep as little Indian currency in cash as possible.
READ MORE: Indian GDP May Suffer 2% Decrease Over Currency Reform – Ex-Prime Minister
"The RMA would like to inform the general public to deposit any INR earnings/receipts in their accounts maintained with any commercial banks and refrain from holding the INR currency notes in cash. The RMA shall not be liable or responsible in case of any policy changes by the RBI, including demonetization of INR currency notes in the future," RMA said in a circular on June 12.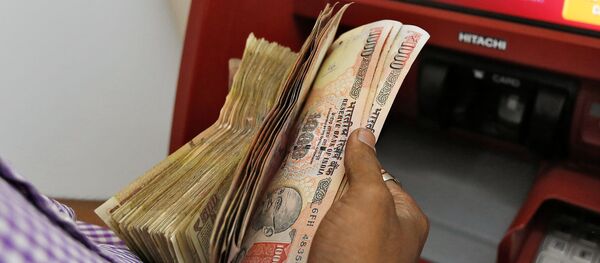 18 November 2016, 08:09 GMT
The RMA has also cautioned the general public of counterfeit notes of the INR 500 denomination, requesting all individuals to be vigilant and careful while accepting this denomination. 
On November 8, 2016, India demonetized 80% of its currency notes, replacing them with new notes of different denominations in what was claimed to be a drive against black money and counterfeit currency.
The step caught Nepal and Bhutan off guard, as the two neighbors have had significant reserves and usage of Indian currency, with Bhutan giving it the status of legal tender within its borders. 
READ MORE: Nepal Suffers Collateral Damage From Indian Note Ban
At the time of demonetization, the RMA had a reserve of INR 30 billion (approx. $450 million). The shortage of legitimate currency notes caused by the sudden demonetization had crippled the Bhutanese economy, including banking system, as 80% of the trade of the Himalayan state is with India. People lost their savings and businesses due to the non-availability of Indian currency till mid-2017.