Separating Mexican migrants entering the US from their children means that Washington's idea of civilization differs from Paris', a French government spokesman said on Tuesday.
"I don't want what's happening in the United States to happen in Europe, we don't have the same model of civilization, clearly we do not share certain values," government spokesman Benjamin Griveaux told France 2 television.
"These images are obviously shocking, and obviously our job is to defend a European ideal, an ideal of peace, of freedom," Griveaux added.
Family separation ordered by the administration has resulted in nearly 2,000 children being separated from their parents in six weeks.
There have been 1,995 children taken from 1,940 adults at the border between April 19 and May 31, The Associated Press reported.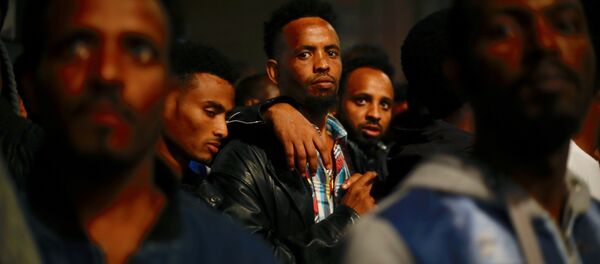 27 February 2018, 17:40 GMT
European leaders have also been angered by Trump calling their decision to allow in hundreds of thousands of asylum seekers from North Africa and the Middle East a "big mistake," and saying he would never agree to see the United States being turned into what he describes as a "migrant camp."
EU Dealing With Own Migrant Crisis
The statement by the French government spokesman came just as President Emanuel Macron and German Chancellor Angela Merkel are preparing to meet in Berlin to thrash out a common EU response to the migrant crisis Europe has been going through since 2015.
Angela Merkel is facing a rebellion from her own conservative coalition partner, Interior Minister Horst Seehofer, who has demanded that Germany start turning back some incoming refugees right at the country's doorstep.
Netizens Bash Melania Trump's Alleged Criticism of US Immigration Policy
Seehofer, who heads Bavaria's Christian Social Union (CSU), a partner with Angela Merkel's Christian Democratic Union (CDU) in the ruling conservative coalition, had earlier given the Chancellor until July 1 to negotiate individual accords with Germany's neighbors to allow Berlin to turn back refugees who have already been registered in another EU country.
The hard-hitting migrant crisis Europe has been going through since 2015 has fueled the rise of far-right and populist political forces opposing immigration around Europe.