"The conflict between Seehofer's CSU ([and Merkel's Grand Coalition]), which is described by federal media as a government crisis is primarily a conflict between Bavaria and Germany," the Bavarian Party said in a press-release published on Friday.
In an interview with Sputnik, the party chairman, Florian Weber, said that unlimited migration is not in Bavaria's best interest.
"In the final account, this is a conflict of interest between Berlin and Munich, because Bavaria is where the refugees are coming to in the first place," Weber said.
"You can't simultaneously represent the interests of Bavarians in Munich and of Germans in Berlin. It is high time we separated things that don't go together. It's time to stand up for the independence of Bavaria," he added.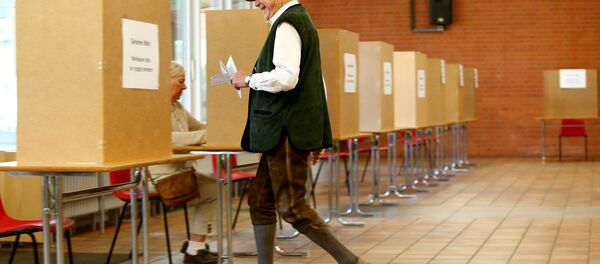 6 October 2017, 11:58 GMT
Weber also said that sympathetic as the Bavaria Party was of the CSU's position, he still feared that the Christian Social Union
(CSU) would not be able to prevail over Angela Merkel's Christian Democratic Union (CDU).
CSU is Trusted No More
Florian Weber believes that Horst Seehofer's threats and his individual effort to change the government's immigration policy may actually be just another election ploy by the CSU.
During last year's parliamentary elections, Seehofer promised to tighten the country's immigration laws.
Florian Weber has little faith in the interior minister's ability to match words with deeds and if he really thinks so then the CSU should have broken off its alliance with the CDU.
"In the past we have seen too many examples of the CSU making all the right demands only to back off later. That's why I fear that they will cave in once again and the interest of Bavaria will be ignored again," he noted.
He added that the current situation could also be playing into the hands of the Alternative for Germany Party (AfD).
A recent poll proved him right, as the CSU saw its popular support in Bavaria sliding by one percent while AfD gained 1.5 percent and with 13.5-percent support, could have emerged as the second biggest party in Bavaria.
The past week has seen a lot of political squabbling in Berlin with Angela Merkel's interior minister and conservative ally, Horst Seehofer, demanding that Germany start turning back some incoming refugees at the country's border.
READ MORE: Germany's Merkel Pledges to Support Italy on Migration Issue Amid Pressure
Seehofer, the head of Bavaria's Christian Social Union (CSU), a partner with Angela Merkel's Christian Democratic Union (CDU) in the ruling conservative coalition, had earlier given the chancellor until July 1 to negotiate individual agreements with Germany's neighbors to allow Berlin to turn back refugees who have already been registered in another EU country.
Merkel, who initially rejected Seehofer's plan, arguing that Germany should work with other EU countries to find a common solution to the problem, eventually agreed with the minister on further steps over the migration policy in a bid to prevent a breakup of the country's decade-long  governing alliance.