On June 14 New York state Attorney General Barbara Underwood filed a suit against the Donald J. Trump Foundation citing alleged "extensive and persistent violations of state and federal law." Wall Street analyst and investigative journalist Charles Ortel sheds light on the case in an interview with Sputnik.
"The action by Acting Attorney General of New York Barbara Underwood includes allegations against the Trump Foundation and certain Trump family members that will be taken seriously by authorities," said Ortel, who has been conducting a private investigation into the alleged fraud on the part of the Clinton Foundation over the past few years.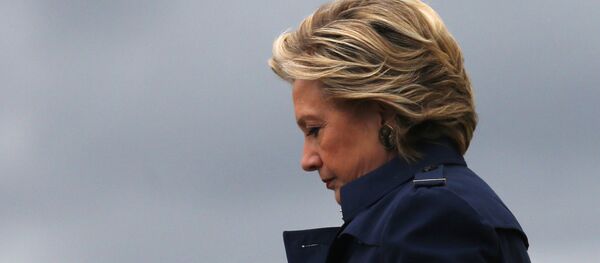 According to the analyst, the Trump Foundation is already in the process of liquidation. Ortel recalled that previously the entity had "dealt with some of the issues mentioned in the legal complaint, including paying penalties."
The Wall Street analyst highlighted that "as in the case of the previous action taken by New York Attorney General Eric Schneiderman against 'Trump University' in 2016 before the election, Underwood appears to be moving aggressively in ways perhaps designed to score political points, as the Trump allegations pale when compared to apparent violations by a raft of Clinton and related 'charities'."
The sleazy New York Democrats, and their now disgraced (and run out of town) A.G. Eric Schneiderman, are doing everything they can to sue me on a foundation that took in $18,800,000 and gave out to charity more money than it took in, $19,200,000. I won't settle this case!…

— Donald J. Trump (@realDonaldTrump) 14 июня 2018 г.
….Schneiderman, who ran the Clinton campaign in New York, never had the guts to bring this ridiculous case, which lingered in their office for almost 2 years. Now he resigned his office in disgrace, and his disciples brought it when we would not settle.

— Donald J. Trump (@realDonaldTrump) 14 июня 2018 г.
​The Trump Foundation and the Clinton Foundation: What's the Difference?
The Trump Foundation case brings to mind the controversy simmering around the Clinton Foundation. What's the main difference between the alleged violation of law by Trump's charity and the supposed misconduct by the Clintons' entities?
"The main differences include the scale of the arguably illegal activities and the fact that the Trump entity is a 'private foundation' that can be controlled by a family whereas all Clinton entities are supposed to be 'public charities' — these must act solely in furtherance of public interests and certainly cannot be used either for personal enrichment or for political gain," Ortel explained.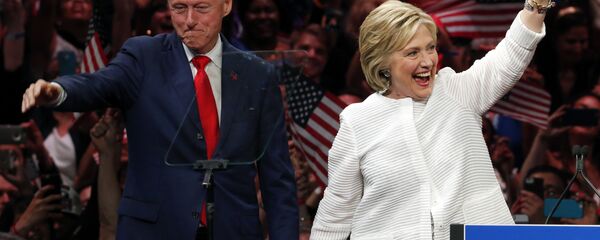 6 January 2018, 17:46 GMT
The investigative journalist argues there are at least 12 charities connected to the Clintons: Bill, Hillary & Chelsea Clinton Foundation (formed on October 23, 1997); International AIDS Trust (January 29, 2001); American India Foundation (March 6, 2001); The Clinton Family Foundation (December 4, 2001); Clinton Foundation HIV/AIDS Initiative, Inc. (March 24, 2004); Bush-Clinton Katrina Fund (October 4, 2005); Clinton Global Initiative, Inc. (September 4, 2009); Clinton Health Access Initiative, Inc. (September 29, 2009); Clinton-Bush Haiti Fund (January 28, 2010); Alliance for a Healthier Generation, Inc. (February 10, 2010); C40 Cities Climate Leadership Group Inc. (November 22, 2010); The Barack Obama Foundation (January 31, 2014).
"Each of these appears to run afoul of NY's strict reporting requirements and the amounts involved are far larger than concerning Trump," the Wall Street analyst stressed.
READ MORE: How Hillary Clinton May Find Her Way to Jail
NY AG Lawsuit Against Trump May Backfire on the Clintons
According to Ortel, the anti-Trump proceeding in New York may become "horrible for the Clintons, as arguments made apply spot on to all Clinton 'charities'."
The problem is that "the alleged infractions are currently still ongoing by the Clintons who have yet to liquidate the main charity and are actively soliciting contributions across state lines using the mail, telephones and the Internet, while public filings are false and materially misleading," he elaborated.
"For example," the analyst pointed out, "the main Clinton Foundation has yet to explain fully how Bill, Hillary & Chelsea Clinton came, on November 2, 2013, to be Class A Directors with powers to control most aspects of the Foundation at Board meetings and then, between Board meetings, to control all activities without being subject to review by other Class B Directors."
He highlighted that "this move is strictly forbidden by a 'public charity' that must be run by an independent, unconflicted Board."
READ MORE: Why the Fall of the House of Clinton May Trigger Domino Effect Worldwide
© REUTERS / Brendan McDermid/File Photo
Former FBI Director James Comey arrives for a taping of "The Late Show with Stephen Colbert" in the Manhattan borough of New York City, New York, U.S., April 17, 2018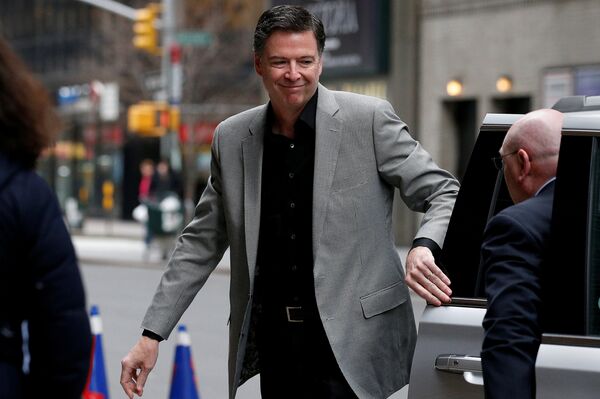 Former FBI Director James Comey arrives for a taping of "The Late Show with Stephen Colbert" in the Manhattan borough of New York City, New York, U.S., April 17, 2018
©
REUTERS
/ Brendan McDermid/File Photo
Horowitz Report: Why Did It Take So Long for FBI to Launch Clinton Email Probe?
The lawsuit against the Donald J. Trump Foundation kicked off the same day that Justice Department Inspector General (IG) Michael Horowitz released his report about the FBI's handling of the Clinton email case.
Ortel, who shared his views on the possible implications of the Horowitz report on the eve of its publication, has commented on the recent development in the matter.
"The biggest finds I see start with the admission that the FBI did open an investigation into the Clinton Foundation in January 2016, following a request to [then FBI Director James] Comey made by 'a private attorney' on May 4 2015," the Wall Street analyst underscored.
The investigative journalist said he is surprised that "it took so long for the FBI to open this investigation, especially given obvious problems seen with attempts by the Clinton Foundation to correct certain tax filings on November 16, 2015."
"Was [then FBI Deputy Director Andrew McCabe] involved delaying the decision?" Ortel asked rhetorically.
Why was the FBI's sick loser, Peter Strzok, working on the totally discredited Mueller team of 13 Angry & Conflicted Democrats, when Strzok was giving Crooked Hillary a free pass yet telling his lover, lawyer Lisa Page, that "we'll stop" Trump from becoming President? Witch Hunt!

— Donald J. Trump (@realDonaldTrump) 18 июня 2018 г.
​According to the analyst, this situation prompts a set of questions apparently inconvenient for some FBI officials.
"What has the FBI been doing since January 2016?" he asks. "It should have been possible to make rapid progress well before the informal '60 day rule' that, by my calculation, kicked in around September 9, 2016. According to this rule, the Department of Justice is lo to announce actions that might have impact on an election."
"The highest level of bias I've ever witnessed in any law enforcement officer." Trey Gowdy on the FBI's own, Peter Strzok. Also remember that they all worked for Slippery James Comey and that Comey is best friends with Robert Mueller. A really sick deal, isn't it?

— Donald J. Trump (@realDonaldTrump) 18 июня 2018 г.
READ MORE: Past Records Cast a Shadow on US Special Counsel's Inquiry Into Trump
​There is yet another set of issues concerning the laptop belonging to Anthony Weiner, then husband of Huma Abedin, vice chair of Hillary Clinton's 2016 campaign, "that may have as many as 675,000 emails on it," he noted.
"When, exactly, did the NY Police get this device and what did they find on it?" Ortel asked. "When and why did the FBI seize the device from the NYPD? Who was responsible for this decision? And then why did the NY Office of the FBI wait so long to examine the contents? Why did they fail to do a thorough examination before the November 8, 2016 election? And what has happened since the election to this device, while Comey led the FBI, while McCabe followed him, and under [current FBI Director Christopher] Wray?"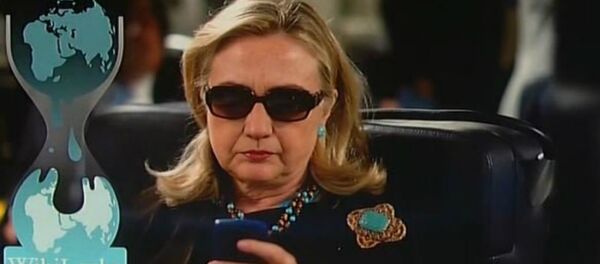 24 February 2017, 14:30 GMT
The investigative journalist believes that the American public is just beginning to understand what may have happened.
He emphasized that he "fully expect[s] profound consequences to follow once the public grows to understand how Team Clinton, the Obama Administration and others conspired to rig primaries, win the 2016 election, and then to attack Trump."
"I believe there have been massive miscarriage of justice, as well as obstruction of justice," Ortel said. "Many people, some quite powerful, could well end up in prison. But the process will, one hopes, 'Drain the Swamp' and set important precedents. No one is above the law inside the US this especially means powerful proponents of 'unregulated globalism'!"
The views and opinions expressed by Charles Ortel, Ekaterina Blinova are those of the contributors and do not necessarily reflect those of Sputnik.