In an interview with Sputnik, Mei Xinyu, a senior expert on international trade at China's Ministry of Commerce, said that  Beijing's reaction to Washington's moves will be symmetrical, adequate and expedient.
"First of all, there is more to the trade and other economic ties between China and the US than just an exchange of goods. China can counteract to protect its economic interests. The two countries are too closely intertwined now that the US is no longer the world's number one and only unrivaled power, and it needs China in many respects," he said.
He added that if Washington shows restraint, the two countries will be able to cooperate normally, but if the US starts acting precipitously and  creating problems, Beijing will be ready to face up to the challenge and go all the way.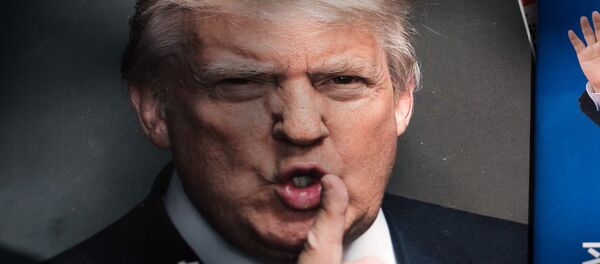 "As for the concrete measures China will take, let's wait for the package of import tariffs announced by President Trump. The show is not t over yet, let's see what happens next," Mei noted.
According to deputy director of the Institute of Asian and African Studies in Moscow, Andrei Karneyev, with the extent of economic interaction between the two economic powerhouses, finding mutual weak points will not be difficult.
"For example, China could apply the tactic it previously used to impact Seoul's decision concerning the deployment of US THAAD missiles in South Korea," he said.
Last year, in response to the stationing of US missiles in South Korea, Beijing created serious problems for that country's economy, above all the electronics sector.
"Chinese consumers simply stopped buying South Korean brands and the government was erecting all kinds of bureaucratic hurdles for South Korean companies working in China," Karneyev added.
For example, South Korea's Lotte Group was forced to sell most of its stores in China and suspend the construction of two big ones in the face of crippling measures imposed by Beijing after the company provided a golf course to Seoul for the THAAD missile-interception system installed by South Korea and the US.
South Korean tour operators were hit the hardest after China stopped sending its tourists to South Korea.
"This is exactly how China could do things if Donald Trump announced new protective measures against Chinese imports. However, with the two countries economically interconnected as they are, this could prevent them from unleashing an all-out trade war," Andrei Karneyev concluded.
The United States and China are also trying to find their way out of a major trade dispute that has seen the two countries trading threats of tit-for-tat tariffs on goods worth up to $150 billion  on both sides.
READ MORE: Chinese Envoy Proposes Joint Action by India, China to Counter US Protectionism
In May, the US proposed tariffs on $50 billion worth of  Chinese goods under an  intellectual property probe. Those could go into effect next month, following the completion of a 60-day consultation period, but activation plans have been kept vague.
China has said its own retaliatory tariffs on US goods, including soybeans and aircraft, will go into effect if the US duties are imposed.
The views expressed in this article are solely those of the speaker and do not necessarily reflect the official position of Sputnik.