"A total of 97.7 percent of ballots have been processed. President Erdogan received an absolute majority of votes. The Justice and Development Party, Nationalist Movement Party, Republican People's Party, Good party, and Peoples' Democratic Party cleared the 10-percent threshold," Sadi Guven told reporters.
According to the Anadolu news agency, Erdogan's main opponent, Muharrem Ince from the Turkish opposition Republican People's Party (CHP), has managed to gain 30,7 percent of votes.
At the same time, Erdogan's ruling Justice and Development Party (AK) got almost 53 percent of votes in the parliamentary election, while CHP has received 22,7 percent and the pro-Kurdish Peoples' Democratic Party (HDP) gained 11,6% after more than 90 percent of votes were counted.
Commenting on his victory, Erdogan said Sunday that his government would continue to respond to those who threaten Turkey via terror organizations. He called on his country to focus on the future after the election, and renewed his determination to improve rights and freedoms in the country.

Moreover, speaking to his supporters at his ruling AK Party's headquarters in Ankara, Erdogan emphasized that Turkey would act more decisively against terrorist organizations.
The incumbent urged that his re-election was a public mandate and that there would be "no turning back" on the economic path he and his ruling AKP party had plotted for the country.
"Our people have given us the job of carrying out the presidential and executive posts," he said in a short speech from Istanbul, Reuters reported. "I hope nobody will try to cast a shadow on the results and harm democracy in order to hide their own failure."
Although more than 90 percent of the votes have been counted according to TVS, Turkey's main opposition party urged that the result was too close to call Sunday night.
Bulent Tezcan, the spokesman for the main opposition CHP, said at a news conference that votes from the largest cities had not yet been counted and predicted that the elections would enter a second round. He cited what he said was his party's own data, which showed that only 39 percent of the votes had been counted and that Erdogan's percentage of the vote was only 51.7 percent at that time.
The elections were originally scheduled for November 2019, but were moved up to June by Erdogan himself. The preliminary elections were crucial to enforce the new constitution introduced after a referendum in April 2017.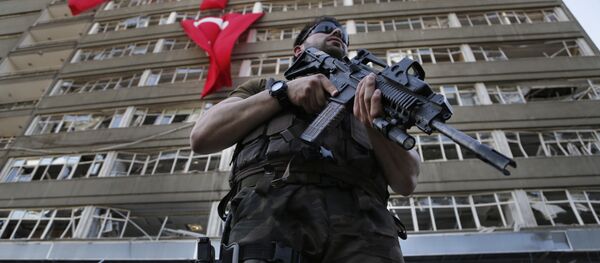 Erdogan has served in Turkey's highest political office since 2014, also serving as its prime minister from 2003 to 2014. He is the founder of the Justice and Development Party (AKP).
On July 15, 2016, the Turkish military attempted to remove Erdogan from office, but the coup d'etat was suppressed and widespread purges of the civil and military ranks followed. Erdogan's government blamed a Muslim cleric, Fethullah Guelen, once Erdogan's political ally, but now exiled and living in the US.