According to AP, North Korean officials have not spoken on the record about the decision, but the news outlet said Monday that it received confirmation that the event has been called off.
July 27 is remembered as the day the Korean Armistice Agreement in 1953 ushered in a ceasefire to the Korean War. In North Korea, the day is celebrated as "Day of Victory in the Great Fatherland Liberation War."
Last year, some 100,000 North Koreans gathered at the Victorious War Museum in Pyongyang to commemorate the armistice signing.
"We get along very well," Trump said at a Thursday cabinet meeting of his relationship with Kim. Noting that North Korea could have a tremendous future, Trump said, "but we want to have it denuclearized, and that's what's happening."
Late last Friday, the Pentagon announced that it was "indefinitely" suspending annual military training exercises with the South Korean military dubbed Ulchi Freedom Guardian "to support implementing the outcomes of the Singapore Summit." Pyongyang has long maintained that the exercise was a dress rehearsal for an invasion of the North, and, therefore viewed the drills as a provocation.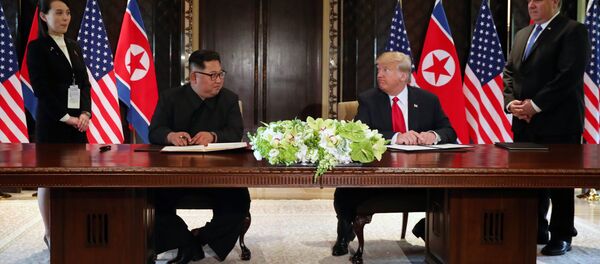 Sunday, North Korea repatriated the remains of hundreds of American troops who died in the North during the war. "The path to thoroughly implementing the North-US joint statement is the path to securing the common interests of the peoples of the two countries, and peace, security and prosperity on the Korean Peninsula and in the world," said DPRK Today Sunday, Yonhap News reported.