In a regulatory filing with the US Securities and Exchange Commission made on Monday, the Milwaukee-based motorcycle manufacturer announced that it was forced to take the measure due to Brussels' stiff tariffs targeting the company. The tariffs, which had come into force on June 22, increased from 6 percent to 31 percent, resulting in a $2,200 increase in the average price per bike.
"Harley-Davidson believes the tremendous cost increase, if passed onto its dealers and retail customers, would have an immediate and lasting detrimental impact to its business in the region, reducing customer access to Harley-Davidson products and negatively impacting the sustainability of its dealers' businesses," the company said.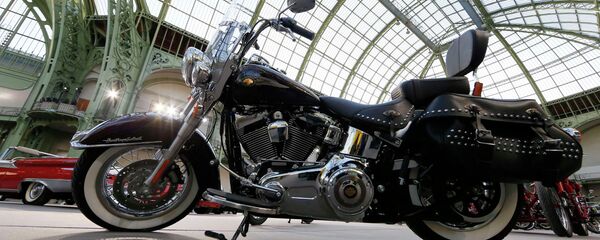 According to Markets Insider statistics, the company exported some 390,619 bikes to Europe in 2017, over 25 percent more than the 288,802 bikes sold in the US in the same period.
The company plans to shift production to facilities in countries not hit by the tariff burden, with the plan expected to take between 9 and 18 months to implement. In addition to its US-based plants, the company has factories in Brazil, India and Thailand.
Europe's targeted retaliation against Trump's 25 percent tariffs on steel and 10 percent on aluminum includes jeans, motorbikes, boats cigars, whisky, bourbon and other consumer items. In March, European Commission chief Jean-Claude Juncker warned explicitly that Harley-Davidson would be targeted if Europe did not receive an exemption to the steel and aluminum tariffs.
Shortly after coming into office last year, Trump touted Harley-Davidson as an "American success story" and thanked the company for keeping jobs in America.