"The government, which wants to do what it promised during the election campaign, has come to power [in Italy]. Sanctions against Russia are useless and counterproductive. … We are ready to put words into actions, but, concerning the matter, we are almost alone in Europe, alone against the whole world," Salvini said in an interview to Russia's Rossiya 24 TV channel.
According to the Italian official, Russia, Italy, and the European Union should talk to each other, trade, as well as cooperate in the field of economy and counterterrorism.
READ MORE: 'No Meat on Board': German NGO Invites Italy's Deputy PM to Banned Migrant Ship
He added that Italy's position on migration was demonstrated when it refused to accept the Aquarius vessel with over 600 migrants rescued in the Mediterranean Sea. Specifically, the incident showed that Rome could say "no" when it came to issues that were important for the country.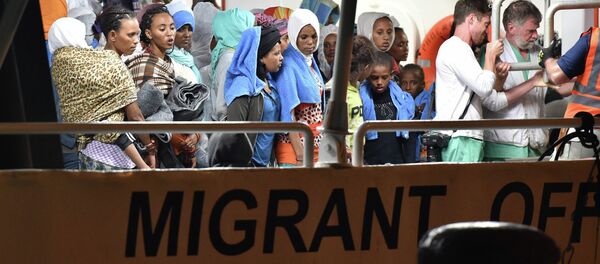 Salvini also said that the extension of the EU sanctions against Russia had been made in a rush and before Italy could form a stance on the matter. However, he did not answer the question on whether Rome would veto the next renewal of the restrictions.
In late May, a coalition consisting of Lega and the anti-establishment Five Star Movement (M5S) managed to form a government after weeks of talks and a failed attempt to create a cabinet. Among other issues, the coalition agreement called for lifting anti-Russia sanctions.