"The Russian airbase Khmeimim in the Syrian Arab Republic does not have sites or pages on social networks," the Russian Defense Ministry said in a statement.
The ministry stressed that all information relating to the activities of Russian troops in Syria is reported exclusively by representatives of the Russian Defense Ministry, and also through official resources of the Russian military department on the Internet.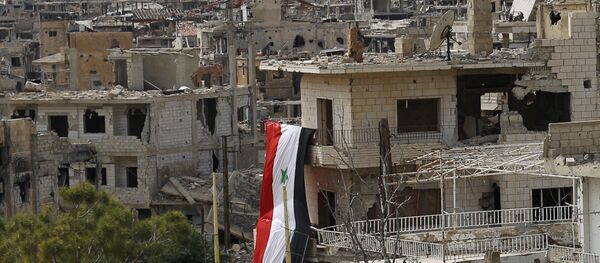 20 February 2018, 19:40 GMT
Earlier, Anadolu had reported about the termination of the agreement on the southern Syrian de-escalation, referencing the fake page of the Khmeimim air base command.
READ MORE: Syrian General Warns US May Use Jihadists in Fresh Offensive to Take Palmyra
The Russian Center for Syrian Reconciliation, a peace monitoring and humanitarian organization run jointly by Russia and Turkey, is hosted at the Khmeimim Air Base in Latakia Governorate — around 200 miles north of Damascus.
The total number of settlements in the southern de-escalation zone that joined the Syrian government forces increased to 12 on June 24, the Russian Defense Ministry pointed out earlier.
Most of Syria's territory has already been freed by government forces supported by the Russian Air Force, however, there are still some terrorists located mainly in the southwestern US-controlled areas.