A senior State Department official warned Turkey on Tuesday that Washington might not hand over the F-35 fifth-generation F-35 fighters if Ankara goes ahead with its planned purchase of S-400 missile defense systems from Russia.
Testifying before the Senate's Foreign Relations Committee on Tuesday, Wess Mitchell, US assistant secretary of state for European and Eurasian affairs, said that  the handover of F-35s to America's foreign partners is normally followed by a lengthy period of training of  pilots of the countries that the planes are going to.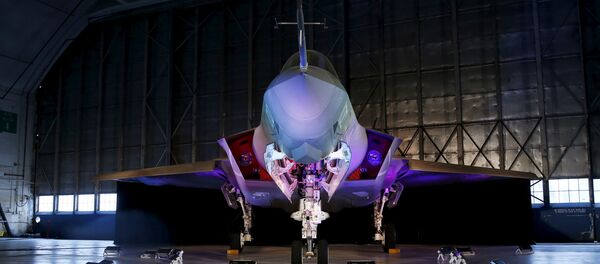 "We've been very clear that across the board, an acquisition of S-400 will inevitably affect the prospects for Turkish military-industrial cooperation with the United States, including F-35," Mitchell told a Senate foreign relations subcommittee hearing on US relations with Europe.
When asked to specify whether Ankara had already received the its first two F-35s, Mitchell said that the matter was still at a preparatory stage.
"We believe that we have the existing legal authorities that would allow us to withhold transfer under certain circumstances, including national security concerns," Mitchell emphasized.
He added that under the circumstances, the US still has the time and ability to guarantee that Turkey will not move ahead with the purchase of
S-400 missiles from Russia before it decides to acquire the F-35s.
Washington has repeatedly warned that the purchase by Ankara of the S-400 missiles from Russia would hamper NATO security interests.
On June 18, the US Senate approved the annual National Defense Authorization Act, which includes an amendment banning the sale of the F-35 Joint Strike Fighter jets to Turkey, citing Ankara's planned purchase of two batteries of S-400 air defense missile systems from Russia.
Turkish officials have responded to Washington's pressure by saying that Ankara does not accept sanctions from NATO partners when discussing deliveries of the Russian S-400 systems.
READ MORE: US Fears Russia May Get Access to F-35 Tech Via Turkey — Reports
When speaking in Ankara on April 9, Turkish President Recep Tayyip Erdogan said that Turkey would not backtrack from its decision to buy the S-400 missile systems.
On May 6, Turkish Foreign Minister Mevlut Cavusoglu told CNN Turk that if the US decided to introduce sanctions on Ankara or would tighten the visa regime with Turkey, his country would give "a decisive response" to that.
During a joint news conference with his Turkish counterpart Recep Tayyip Erdogan earlier this year, President Vladimir Putin said that Russia had decided to fast-track the delivery of S-400s to Turkey.