New Delhi (Sputnik) — Augmenting India's energy security, the Narendra Modi government has approved the establishment of two new strategic petroleum reserves of 6.5 Million Metric Tons. The two facilities will come up at Chandikhol in Odisha and Padur in Karnataka, including construction of dedicated single point mooring for the two reserves.
"The SPR facilities at Chandikhol and Padur will be underground rock caverns and will have capacities of 4 MMT and 2.5 MMT respectively," a government statement reads.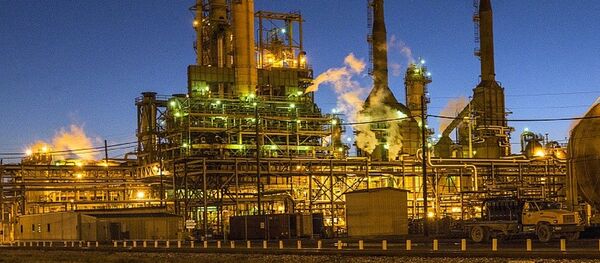 Both these facilities will be set up under a public-private partnership model to reduce budgetary support from the Government of India.  The Indian government has already constructed underground rock caverns for storage of 5.33 million metric tons of crude oil at three locations in the southern part of the country. The Vishakhapatnam facility has a storage capacity of 1.33 million metric tons, while the Mangalore facility can store up to 1.5 million metric tons of crude oil. Padur has a storage capacity of 2.5 million metric tons. 
Thank Hon. PM @narendramodi ji for approving the establishment of 6.5MMT of Strategic Petroleum Reserve at Chandikhol in Odisha & Padur in Karnataka. India takes another major step on strategic Petroleum Reserves, giving a boost to India's energy security. pic.twitter.com/uAk1tHmfAu

— Dharmendra Pradhan (@dpradhanbjp) June 27, 2018
​"The total 5.33 million metric ton capacity is currently estimated to supply approximately 10 days of India's crude requirement according to the consumption data for FY2016-17. Cabinet's approval for establishing additional 6.5 million metric ton strategic petroleum reserve facilities will provide an additional supply of about 12 days," the government statement added.
READ MORE: India Moves to Use National Currency in Oil Trade With Iran – Reports
India has started setting up petroleum reserves across the country, as per country's Integrated Energy Policy of 2006, which recommended "to maintain a reserve, equivalent to 90 days of oil imports for strategic cum-buffer stock purposes…which can be used to address short-term price volatility. Operating the strategic/buffer reserves in cooperation with other countries who maintain such reserves could also increase their effectiveness."
READ MORE: India Warns of Impending Threat to World Economy Due to Unsustainable Oil Prices
India has also been offering foreign oil producers opportunities to invest and store their reserves in these storage facilities so that beyond the strategic reserve, they can supply crude to West Asian refiners to reduce their freight costs for both South Asia and South East Asia.