According to the Israeli media outlet, IAEC members consider such developments as the greatest immediate threat to the reactors. The Commission has recently carried out training exercises simulating a missile attack on one of the facilities, including the evacuation of personnel and measures to prevent radioactive material leakages.
READ MORE: Israel to 'Prolong Bloodshed' in Syria as Media Pushes 'Sensational' Iran Claims
Even though the IAEC has reportedly taken precautions, commission members said it was unlikely to jeopardize Israelis, but such a scenario would constitute a "propaganda achievement for the enemy," be it Tehran, or Hezbollah.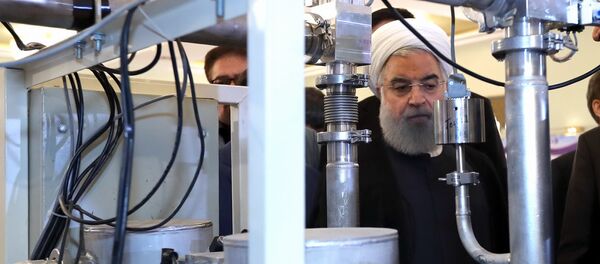 Haaretz
cited an IAEC top official who said that the commission has relocated its headquarters from northern Tel Aviv to an area closer to the Nahal Sorek reactor, and claimed that employees will be safe even in the event of a missile attack.
At the same time, the IAEC stated that it understood that such a scenario would spread fear among Israelis, so the commission is working on an appropriate explanation to correctly address the potential situation.
Last month, Israeli nuclear scientists discussed studies revealing what would happen if a missile hit one of the reactors. According to research published in the Journal of Nuclear Engineering and Radiation Science last year, a Scud missile landing within 115 feet (35 meters) of the reactor could cause damage to its protective dome and disrupt control systems responsible for operating and cooling it.
Tel Aviv has been citing Hezbollah leader Hassan Nasrallah's remarks as he said last year that the group would target Israel's Dimona nuclear reactor, which he dismissed as "antiquated" and claimed that it "doesn't require major force to hit."
Israeli military personnel are said to believe that Hezbollah possesses between 100,000 and 120,000 short- and medium-range rockets, in addition to several hundred long-range missiles.

During his European tour earlier this month, Israeli Prime Minister Benjamin Netanyahu claimed that Iran would soon use its uranium enrichment program to destroy the Jewish state, adding that Tel Aviv wouldn't let Iran "obtain nuclear weapons."
Netanyahu's remark followed the announcement by Behrouz Kamalvandi, the spokesman for Iran's nuclear agency, that the Islamic Republic had informed the UN nuclear watchdog about its actions to boost the country's nuclear enrichment capacity within the limits set under the Joint Comprehensive Plan of Action (JCPOA).