Radio Sputnik discussed the outcome of the OPCW's powers being expanded with Sergey Batsanov, director of the Geneva Office of Pugwash Conferences on Science and World Affairs. He was a senior member of the secretariat of the Organization for the Prohibition of Chemical Weapons (OPCW) from 1993 to 2004.
Sputnik: What's your take on the decision? Has it come as a surprise to you?
29 June
Russia's Lavrov: To establish facts, OPCW experts must go to the place of alleged incidents themselves and with their own equipment take samples and hold these samples until they reach a certified laboratory. In Khan Sheikhoun, this chain of custody was violated
#Syria pic.twitter.com/9vaVTr5Qh1

— the Lemniscat (@theLemniscat) 30 июня 2018 г.
Sergey Batsanov: No, it didn't come as a surprise. I think the cards were that such a decision once the whole initiative was launched would be taken, sooner or later. Of course, I couldn't guess exactly the parameters of the decision, but by and large, its main elements could be seen in formation, so to say, over several months. 
Sputnik: Earlier, Moscow dubbed the UK proposal as "politicized." What's your take on the matter? […]
Sergey Batsanov: Actually, I agree with that. It is politicization and it is, in my view, an attempt to use the organization for purposes which have actually little to do with its main mandate. I understand, what I just said may seem strange, because the mandate is to ensure the elimination of chemical weapons and prevent the use of chemical weapons under any circumstances; but the problem here is that it was done in a certain way, which I frankly think is unacceptable.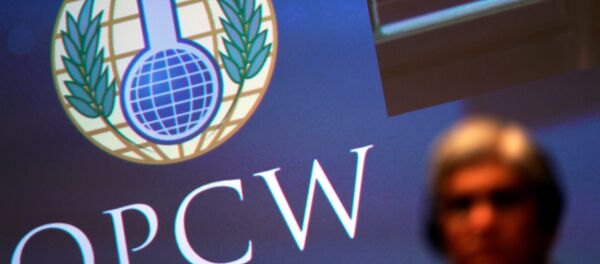 Sputnik: How could it affect and impact the Syrian conflict moving forward and what would you like to see in terms of future strategy from the OPCW?
Sergey Batsanov: In the short term, I don't see how it would impact the evolution of the Syrian conflict. It is clear that the Syrian government, the Assad government, now controls if not most of the territory, but certainly most of the territory where most of the people live. However, I think it would further complicate the process of political settlement in Syria, because it is just another step to "prove," so to say, that Assad is a "war criminal," and I think that as far as Syria is concerned, this is probably the main reason for this initiative. I think that the OPCW has been put in a very difficult situation and again, I don't see how it will survive.
READ MORE: Russia: UK Bribed OPCW Members
I am not suggesting it would disintegrate in a matter of months or so, but the long-term sustainability of the organization does depend very much on a constructive process. This was not a constructive process. Now I think it is of utmost importance to find a way and to generate a political will for at least major players to come together and try to sort it out.
The views and opinions expressed by contributor do not necessarily reflect Sputnik's position.