Sputnik: In your view, what policy is President Trump likely to pursue when he comes to the US-Russian relations meeting in Helsinki?
Don DeBar: Well this has been at heart of a very hostile reaction from the so-called deep state in the United States  to Trump's election after he mentioned a few heresies during the course of the campaign leading up to the 2016 election; among the heresies was that the United States and Russia should get along and that it would be a positive, constructive thing for the world if they did. The response from the deep state, from the media, from the Democratic Party was — Trump is clearly under the influence of the "evil Vladimir Putin," that the election was stolen on behalf of Trump so that Putin could have a puppet it in the White House and anyone that would make overtures for peace with Russia clearly has someone influencing their better judgment. So, he is a positive step or impulse coming out of the US that is surrounded by hostility.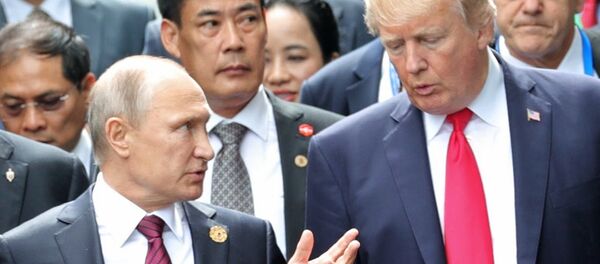 Sputnik: I think the interesting thing for people like yourself and myself, and the average man on the street is what is going to actually come out of this meeting, because obviously, as you stated, President Trump has mentioned on numerous occasions that yes he does want to get along with Vladimir Putin, he doesn't find anything wrong with him, he wants to improve relations with Russia; now since he's become president that hasn't happened. In fact, he's been on record as saying that he's been one of the hardest presidents regarding pressure on Russia and the sanctions that he's imposed. We all expected sanctions to actually be taken away, but they've actually gotten worse in many ways; we don't actually know whether President Trump is driving the ship or his experts and his senior executive team around him are pressuring him to continue this stance. What really is going to happen after this meeting? Is it really going to improve bilateral relations? They seem to get along okay when they meet each other, but after that there doesn't seems to be any substance. Is it just a symbolic nature meeting that's for "old mates," so to speak?
Don DeBar: This has been a problem with relations between the United States and Russia and the Soviet Union before that, with the United States not really being interested in peace during any of those encounters going back to 1917. They might act and accept a period of peace, but the US has always had a very forward-based policy towards Russia where they basically want to negate Russia as a player on the world stage and have Russia fall into line with the United States, acquiesce to the US role as the hegemon in the world. In the particular case now, what we're seeing is a sea change, I hope. Among the ruling class in the West there must be, and I don't know their names and they're certainly not coming out from behind the door to show us who they are. But there must be some members of the ruling elite that understand that the day of hegemony is over; that there's a multilateral world that is coming into being and if they're going to engage that world within the realm of reality, they have to acknowledge it and adjust their policies.
I'm looking at what Trump is doing with the DPRK, for example, and what's happened in Syria in reality — not so much the rhetoric but the reality of it — as some evidence of this, that some part of the elite in the US realizes that World War II is over and a settlement of World War II in Asia should follow that which took place in Europe 25-30 years ago. I think the DPRK, a US peace treaty with them, hands off by the US to the degree that they reached an accommodation with the Republic of Korea, I think that's a manifestation of it.
With respect to the US and Russia, the reality of it is that the United States can no longer afford to have military bases from Finland to Korea surrounding Russia, against a threat that doesn't exist; to create a threat for Russia that risks of nuclear war, when no one's interests on the ground require that. I think that Trump is trying to help actualize a readjustment of US policy, but again, there's a massive outcry against the establishment, the so-called 17 intel agencies, the media, the Democratic Party, lots of corporate America, they've been in this paradigm since 1917; that's 101 years now. I don't think a lot of them have an understanding of how to do something else. I'm hoping that Trump is stumbling towards that something else and we're going to see some evidence of that coming out of this meeting.
READ MORE: Putin-Trump May Agree on US Pullout From Syria, Al-Tanf Handover — Analyst
Sputnik: If there is so much pressure on the president to continue this deep state, what is it that they are going to be talking about?
Don DeBar: Reality has a way of guiding, which the forward movement of history really carries with it. It's a march towards a multipolar world. That is inevitable.
The views expressed in this article are those of the speaker, and do not necessarily reflect those of Sputnik.