The Open Arms ship belongs to the Spanish non-governmental organization Proactiva. On early Saturday, 33 miles from the Libyan coast the vessel took aboard 59 migrants, who tried to reach Italy on a rubber boat. Italian Interior Minister Matteo Salvini wrote on his Twitter page that the country would not accept the ship while the Spanish government allowed the vessel to enter the port of Barcelona.
​"Thanks to the government and [Prime Minister] Pedro Sanchez as they allowed the Open Arms ship and 60 rescued people to arrive in Barcelona," Colau wrote on her Twitter page on Saturday.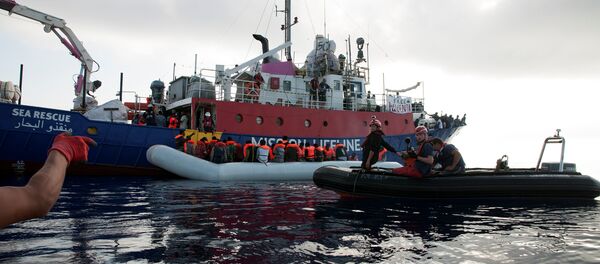 The vessels carries migrants from Palestine, South Sudan, Mali, Burkina Faso, Syria, Cot d'Ivoire, Eritrea, the Central African Republic, Cameroon, Ethiopia, Libya, Bangladesh and Guinea. There are several children on board of the ship.
In June, Italy refused to allow entry to two rescue ships carrying migrants. Spain allowed the first ship, the Aquarius with more than 600 people on board, to dock in Valencia, but barred entry to the other one, the Lifeline.