The US media and other companies indirectly paid Melania Trump between $100,000 and $1 million in royalties in 2017 for photos of her and other members of the Trump family made between 2010 and 2016, according to the latest financial disclosure by US President Donald Trump obtained by NBC News.
The series of 187 photos was taken by Belgian photographer Regine Mahaux; all are available at Getty Images, albeit under the condition that they are used for stories that provide positive coverage only.
​This kind of licensing is common among celebrities, NBC notes, but very rare among first ladies.
According to US laws, federal officials are only obliged to provide the range of their earnings without specific figures; therefore, it is impossible to tell precisely how much Melania got for the photos. However, the Hill speculates that the royalties could approach $1 million.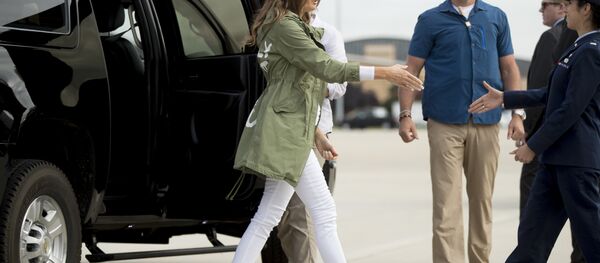 What's more interesting is that many of the media outlets that used the photos, including, for example, Yahoo! News, Marie Claire, the Daily Mail — and NBC News themselves — were unaware that the photos were intended for positive coverage only. Some of them removed the images from their websites entirely after being contacted by NBC; some also said they were unaware that using these photos actually profits the first lady herself.
"We were not aware of this specific arrangement with Getty nor was our editorial influenced by it. We have removed the image from Yahoo Lifestyle," Yahoo wrote in a statement following the incident.
Curiously, Getty Images of Melania were not only used by media websites, they were also used for White House calendars in 2017 sold in gift shops. The publisher, Bent Publishing, confirmed they licensed Mahaux's photos for the calendars last year. This year, none of those photos were included.
And during the 2016 presidential campaign, the Republican National Convention issued a guide book that was given to each delegate — and yes, they also had Mahaux's photos of then-candidate Donald Trump. Campaign finance records demonstrate that the money to pay for the guide came from political donations to the RNC, NBC reports.