New Delhi (Sputnik) — The Confederation of All India Traders (CAIT) — representing over 60 million traders and shopkeepers carried out nationwide protests on Monday against the proposed acquisition of local e-commerce firm Flipkart by American retailer Walmart.
CAIT has argued that the deal will create a monopoly in the retail market and drive mom-and-pop stores out of business.  
​Ashish Ahuja, a cloth retailer who attended the Delhi demonstration, told Sputnik that the deal violates the country's foreign direct investment rule. "If we do not stand against this violation, tomorrow may be Amazon or Alibaba will follow this path and ruin the vastly decentralize retail market of India," Ahuja said.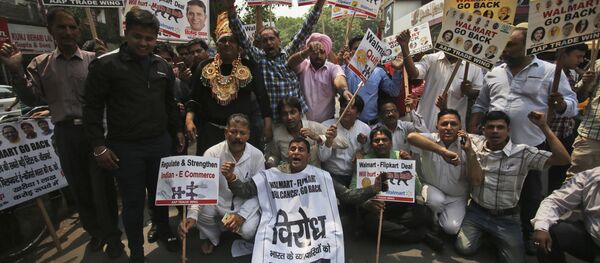 However, Walmart has reiterated that it had been supporting local manufacturing in India by sourcing from small and medium suppliers, as well as farms and businesses run by women.
"Our partnership with Flipkart will provide thousands of local suppliers and manufacturers access to consumers through the marketplace model," Rajneesh Kumar, senior vice president of Walmart India said in a statement on Monday.
READ MORE: Walmart-Flipkart Deal Triggers Concerns Over Crucial Data of Indian Consumers
Last month, India's Ministry of Commerce had initiated a multi-pronged probe into the deal over a complaint filed by the right-wing group Swadeshi Jagran Manch (SJM). In an official memorandum sent to the Reserve Bank of India, the Enforcement Directorate, the Competition Commission of India, and the Income Tax Department, the ministry has asked these agencies to examine the complaint regarding "alleged irregularities in various aspects including FDI policy norms, competition and taxation issues in the Walmart-Flipkart deal." 
READ MORE: Walmart Hits a Wall in India With Fringe Group Protesting Flipkart Acquisition
After 19 months of negotiations, Walmart had struck a $16 billion deal in May this year with Flipkart, which controls approximately 39 percent of India's e-commerce market. SJM — a sister body of India's ruling Bharatiya Janata Party — had alleged that US retail giant Walmart Inc was "circumventing" rules to gain "back-door entry" into India with its majority stake acquisition of Flipkart.