The fashion shop, adjacent to the HKPU campus, will be open to the public from Thursday July 5 through Saturday July 7, Axios reported.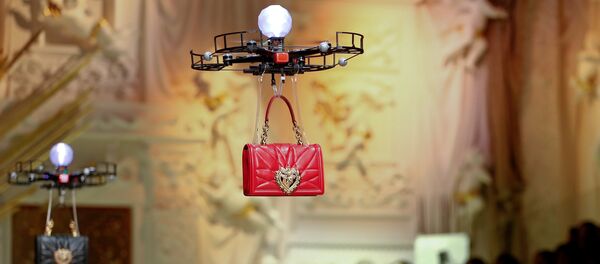 28 February 2018, 09:15 GMT
When you approach the store, you sign in with a Mobile Taobao code and can also opt into a face scan, a YouTube video by Alibaba Group posted Wednesday explains.
When you choose a clothing item off the RFID-enabled racks, an image of it will automatically appear on the smart mirror next to you, the video explains. The smart mirror enables shoppers to mix-and-match options and suggests pairings with matching shirt, pants, shoes and more to help you complete your look. The experience can be made more personalized by hitting a second tab that accesses your previous Taobao purchases and using that information to make more specific suggestions, Axios reports. It can also direct you to where other suggested items can be found inside the store.
Once you've selected your items to try on, you proceed to the dressing room empty-handed — the clothes are already there waiting for you in the color and size you chose! If you decide something is too small or too big, or you'd rather have it in another color or design, you simply indicate so on the smart mirror in your dressing room and the updated item will be delivered to your room.
Pretty cool, right? So how did they do it?
Alibaba's newest interactive FashionAI concept store will be open at Hong Kong PolyU's campus through July 7th, with garments and accessories provided by @GUESS. See how AI technology can transform fashion! pic.twitter.com/iVOkMFYd38

— Alibaba Group (@AlibabaGroup) July 4, 2018
​Axios' Steve LeVine spoke with the head of Alibaba's tech team, Steven Keyang Shi, at the company's Hangzhou campus in Zhejiang. Shi said their objective with FashionAI was to "to merge e-commerce and brick-and-mortar retail — to make shoppers see them as one organism."
Shi told LeVine that one of the primary obstacles was teaching the AI "the rules" of mixing and matching so that it could accurately suggest options to customers. That involved photographs of roughly half a million different outfits submitted by 2 million fashion stylists, along with input from fashion houses based on Taobao's immense inventory as well as that of partner company Guess.

"By partnering with Alibaba, a dominant technology leader, we are changing the retail experience as our customers also evolve," said José Blanco, chief executive of Guess in Greater China, the South China Morning Post, which is owned by Alibaba, reported Thursday. "It is important that we continuously invest in new technology and platforms. At Guess, we believe in the need to innovate in real time. We plan to extend this project in the region as [it is] the future of retail."
"[We have married] technology with fashion in a way that's never been done before," Zhuang said.
The result is a computer that knows fashion better than you — or at least better than your boyfriend.
​The video points out that the electronic system helps brands maintain their inventory, helping store staff be as efficient as possible, so customers get quick and accurate service. It also notes that shoppers can browse through a virtual wardrobe on Mobile Taobao to see clothes they tried in-store and continue to explore combinations from other brands in Alibaba's e-commerce sites, such as Taobao and Tmall.
Alibaba isn't the only e-commerce company exploring the use of AI in brick-and-mortar stores. Amazon Go is a cashless supermarket that uses sensors and cameras to track what customers "buy" in the store, billing them on their Amazon accounts later. Amazon announced earlier this week it will be opening a second location in Seattle sometime this fall, The Verge reported. The new store will be nearly twice the size of the pilot Amazon Go store, which opened earlier this year in Rain City.
Also, Thai company Pomelo Fashion aims to open its first micro-retail store in Singapore soon, where shoppers can select online their items to be tried in a fitting room before actually going to the store.
​