According to Socrates George Kazolias, a Paris-based American reporter, media consultant and university lecturer, law enforcement naturally has the right to  "question a reporter, and a reporter has the right to refuse to answer until and if a judge orders him to do so, and then he is in contempt of court." However, he deems it as "unacceptable" to single out a media outlet for harassment "because you disagree with their editorial line." 
"If Sputnik is singled out because it is a Russian outlet with government funding, then why isn't the BBC, which the Trump administration accuses of being fake news?" Kazolias questioned. He cited arrays of media with government funding including AFP and France Televisions, "which spin a narrative which often corresponds to that of the 'powers-that-be.'"
 As an example he cited French coverage of the Syrian War, which is "a good case in point."
"If we truly believe in the battleground of ideas, then ideas need to compete freely. It was wrong for the EU to ban Iran's Press TV as part of the sanctions on Tehran while Islamic al-Arabiya and Qatar's al-Jazeera continue to broadcast despite government financing and a clear pro-Palestinian line."
In written comments to Sputnik, he explicitly condemned all harassment of the press "in a bid to frighten newsrooms, stifle their reporting."
Yuri Kofner, journalist from German printed journal "Compact" has echoed the views of his US colleague, stating that in so-called "open and democratic" Western countries "a very troublesome Orwellian tendency" can be seen, whereby Russian media outlets are being labeled as "Kremlin propaganda."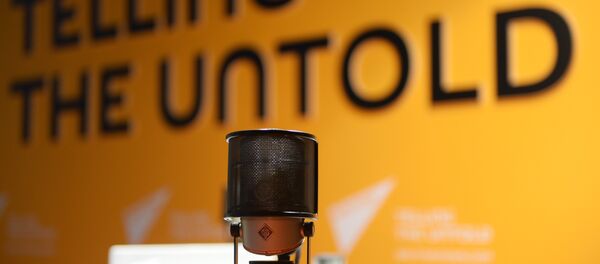 He went on to comment that the label is then being used to dismiss Russian news statements and interpretations as "intrinsically false," "and to obstruct in every possible manner, both lawfully and otherwise, the work of Russian journalists." He cited the detainment of Sputnik Latvia Editor-In-Chief Valentins Rozencovs as a "prime, but unfortunately not new example."
He notably stated that the people who make conclusions are essentially not in a position to decide which media are propaganda and which are not.
"The free work of all journalists, if they work for Russian news agencies or not, and the plurality of media is the only guarantee for a free society. It should be the people, the listeners and viewers, who, in the end, decide with their tune-in ratings and social media likes, if they believe this or that media to be good, interesting, trustworthy, or not," Kofner stated, adding that western politicians are keen on lauding their own media as  "free and unbiased."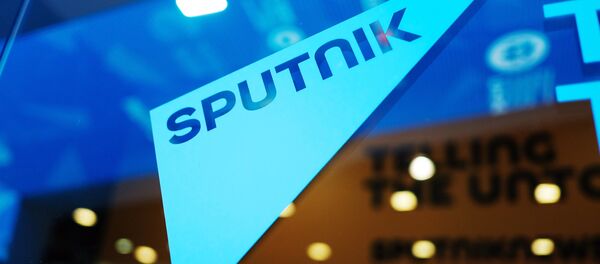 To dismiss the point, Kofner brought up an example from German media, saying half of them are either owned by US transnational corporations, or, alternatively, the editors and key journalists of these media belong to influential high-profile Transatlantic think tanks, "such as the Atlantic Bridge, the George Marshal Fund and the Aspen Institute."
Sarah Abed, an independent journalist and political commentator, has also strongly condemned the arrest of Sputnik Latvia's editor-in-chief, saying the instance is "yet another example of implying fear tactics and intimidation" hoping that journalists and other individuals with ties to Russian media "will cave under the pressure and cut ties with them." The move essentially indicates Sputnik's importance and popularity "in the media on the global stage, when it comes to reporting about crucial topics that the public is concerned with," she stressed.
She recollected the recent years, when the Russian government and the national media have on more than one occasion been targeted in instances of "unprecedented amount of harassment, demonization, and baseless accusations from western governments and their propaganda spewing press." Abed has ascertained western nations' "concerted effort" to silence and intimidate those who expose the role of the United States and their "easily manipulated allies," namely the UK, France, Germany, Canada, Saudi Arabia and Turkey in "destroying sovereign nations under the false pretense of humanitarian intervention."
READ MORE: Sputnik Editor-In-Chief Responds to Poroshenko's Attempt to Teach Her Russian
"Russian government officials and media outlets have also exposed how these nations have provided funding, weapons, training, and other assistance to terrorist factions while claiming to be fighting a "war on terror." Highlighting their hypocrisy on the world stage for all to see has brought on the wrath of censorship," Sarah Abed summed up.
Gunnar Norbert Lindemann, a German MP from the right-wing Alternative for Germany party (AfD),  expressed a similar line of thinking regarding the way Sputnik Latvia's head was treated saying it is "intolerable in a member of the EU."
"It must be guaranteed that a journalist may work in any country of the European Union without being treated by police or state government," Lindemann wrote in comments, adding that press freedom is a top priority right that we "have to defend."
Sputnik Latvia Editor-In-Chief Valentins Rozencovs, a Latvian citizen, said he had been detained on Wednesday in Riga upon his arrival from Moscow and 12 hours later released, "having spent all night at the security police headquarters." Commenting on the report, Russian Foreign Ministry Spokesperson Maria Zakharova noted the motion was generally in line with Latvian policies aimed against Russian media in the country, where roughly 25 percent of the population are Russians, according to official statistics as of 2017.
Responding to the issue, Sputnik's Press Service said pressure on Russian journalists "has become routine in the Baltic countries." As the press release has it, "Democratic European states are concerned about the growing popularity of Sputnik websites in Latvia, Lithuania and Estonia, representing a point of view which is different from what they consider the only right one."
The views and opinions expressed in this article are those of the speakers and do not necessarily reflect Sputnik's position.