In the initial mass arrest, some 230 people taking part in or documenting an anti-capitalist march during the inauguration of US President Donald Trump were rounded up and arrested.
The US Attorney's Office (USAO) contended in its Friday statement that "a riot occurred" during the protest which resulted in the destruction of property to the tune of $100,000. However, charging documents for some of those arrested held them culpable for property destruction that occurred blocks away, while they were being detained. Most of the damage was covered by insurance companies, according to in-court testimony from business owners.
Spencer Kaaz, a J20 defendant who had his charges dropped Friday, called the development "a surprise" during an interview with Sputnik International News. "But just following the trials, I didn't really expect any other outcome."
He said that the lead prosecutor in the case, Assistant US Attorney Jennifer Kerkhoff, "had no case, and then she had to resort to dirty tactics to even pull off what she did." Washington, DC, Superior Court Chief Judge Robert Morin subsequently found that the USAO violated Brady rules by withholding evidence from defense attorneys in May.
"Early on, I never really had dealt with a high-profile political case like that, so being a defendant, much less being one of the final 39, everybody of which was an [Industrial Workers of the World union] member and pretty active, and Kerkhoff made references to everybody's political activity," Kaaz said.
He called the prosecution a hindrance in the sense that he would have to worry, for example, about police being aware of his charges when pulling him over on the road, creating a potentially dangerous situation. "Can I leave the country, can I be safe, am I being watched" he worried.
"I know for some it weighed on [other defendants] psychologically, but personally, I recognized the absurdity of the charges," Kaaz said, noting that he continued his political activity despite the looming threat of decades in prison and has even been arrested multiple times since. "I saw it for what it was."
Washington, DC, was forced to spend $150,000 investigating police actions during the protest after it was revealed in a February 27, 2017, report from DC's Office of Police Complaints (OPC) that a number of policies were violated by the department, including throwing sting-ball grenades at protesters instead of rolling them and improper deployments of pepper spray. One OPC monitor in the field during the protest reported witnessing a supervising officer order the assault of a journalist.
The Metropolitan Police Department (MPD) spent $300,000 on equipment for the day, deploying pepper spray on demonstrators more than 100 times and using 74 sting-ball grenades, which shoot rubber bullets when they combust. In total, policing efforts in the capitol during inauguration day totalled $100 million, according to a report from a few days before the proceedings.
It isn't clear how much was spent on the prosecution, which saw MPD chief investigator Detective Greggory Pemberton spending 60 hours a week on the case, according to his in-court testimony. The MPD denied journalist collective Unicorn Riot's public records request seeking salary information and the office of DC Mayor Muriel Bowser denied the group's appeal.
Those arrested, including demonstrators, medics, legal observers and journalists, were initially charged with felony rioting, which carried a maximum prison sentence of 10 years. Ten days after the initial charge, a superseding indictment was issued which brought a host of conspiracy charges against most of the defendants, excluding most of the journalists. The new charges brought a maximum prison sentence of 60 years, though some of those charges were quickly struck throughout the court process.
After a jury didn't return a conviction against the first group of six defendants on December 21, USAO dropped charges against another 129 defendants. As more trial groups saw their day in court and were either acquitted or had their charges dismissed, the government continued to drop more cases.
The USAO noted in its statement noted that 21 people pleaded guilty to charges, but only one of them was felonious.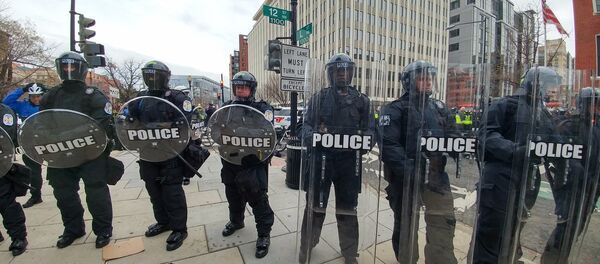 "The trauma has been really severe. It's taken a lot to be able to just hold it together and come to work and do the work. And now that that thing is not there, I need to figure out how to live my life," journalist Aaron Cantú, who had charges against him dropped on Friday, noted to his outlet, SF Reporter.
"It's hard not to feel cynical about the enormous amount of power that prosecutors have to overcharge people, disrupt their lives, and then drop cases before having to face any consequences in court," fellow defendant Michael Webermann told Huffington Post Friday.
Dylan Petrohilos, a defendant who did not participate in the protest but was alleged to have helped organize it after the superseding indictment was issued, had his home raided after the event, with police seizing items including computers, cell phones and an anti-capitalist flag.
"For the past year-plus, I've been fighting these charges along with several hundred other people," Petrohilos told Sputnik News in May, as the threat of some 50 years in prison loomed over him. "What I think the cases end up representing is suppression of dissent in the United States. We're seeing waves of felony charges, not just here, but in Michigan, in St Louis and in Washington, DC."
"What we're seeing is anti-fascist protesters — and Black Lives Matter protesters as well — facing the brunt of political repression in the United States. Meanwhile neo-Nazis are openly calling for violence and have acted on that violence, specifically in Charlottesville," Petrohilos added.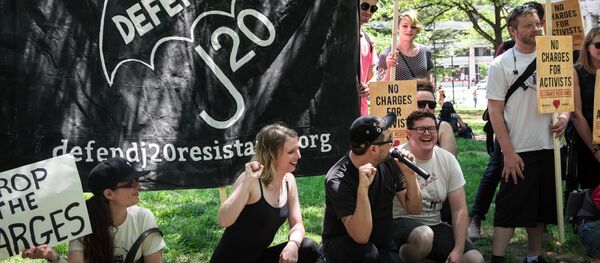 Whistleblower Chelsea Manning, who once faced 35 years in prison for exposing the US military's extrajudicial killings in Iraq, told Sputnik News that, "We need to, as people, stand together in solidarity with these people."
"It's one of the reasons I've been so much for dealing with support for prisoners. Prisoner support is a very important way — because we can't forget [them] — we can't have people go out and protest and then go to jail and have them be left behind. They're still a part of a political movement," she said.
By Alexander Rubinstein, Sputniknews.com writer
DISCLOSURE: I was arrested while covering the anti-capitalist march on January 20, 2017. My felony rioting charge, which carried a 10 year sentence, was dropped prior to the superseding indictment, and was sealed based on a ruling of my actual innocence on November 21, 2017.