The head of Iran's Revolutionary Guards has stated that their forces are ready to follow through with the threat to close the strategical waterway linking Middle East crude producers to crucial world markets, the Strait of Hormuz, if the United States snapped back sanctions targeting Tehran's oil.
"We are hopeful that this plan expressed by our president will be implemented if needed… We will make the enemy understand that either everyone can use the Strait of Hormuz or no one," Tasnim news agency cited Mohammad Ali Jafari, commander of the Islamic Revolutionary Guard Corp, as saying.
READ MORE: US Labeling IRGC a Terror Group May End With Iran Closing Hormuz Strait – Prof
Responding to Iran's threat to retaliate, the US military's Central Command issued a statement to reaffirm its readiness to guarantee freedom of navigation.
"The US and its partners provide and promote security and stability in the region. Together, we stand ready to ensure the freedom of navigation and the free flow of commerce wherever international law allows," Central Command spokesman Navy Captain Bill Urban wrote in an email to Reuters.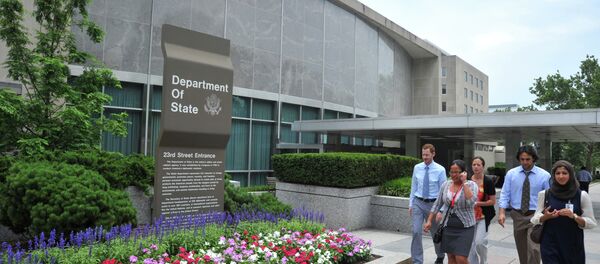 Earlier this week, Iranian President Hassan Rouhani pledged to stand firm against US threats to ban the Islamic Republic's oil sales, and warned of the ramifications of Washington's decision.
Rouhani didn't go into detail, but a number of Iranian officials previously threatened to close the Strait of Hormuz in a retaliatory move to any hostile actions by the US.
Rouhani's comments followed State Department's director of policy planning Brian Hook's confirmation that the US was aiming to "increase pressure on the Iranian regime by reducing to zero its revenue from crude oil sales."
READ MORE: Iran May Block Oil Transit Via Strait of Hormuz if US Levies Sanctions — IRGC
In light of the mutual threats, Iran's OPEC representative Hussein Kazempur Ardebili warned that US citizens will ultimately pay the price for the Trump administration's efforts to ban Tehran's oil exports.
"Trump's demand that Iranian oil shouldn't be bought, and [his] pressures on European firms at a time when Nigeria and Libya are in crisis, when Venezuela's oil exports have fallen due to US sanctions, when Saudi's domestic consumption has increased in summer, is nothing but self-harm. It will increase the prices of oil in the global markets. At the end it is the American consumer who will pay the price for Mr. Trump's policy," he said.
Relations between Iran and the United States have further deteriorated since Trump followed through with his election campaign promise to withdraw from the 2015 nuclear deal, signed by P5+1 (Russia, China, the US, the UK, France and Germany) and the Islamic Republic.
READ MORE: Iran: EU Package on Extending Nuclear Deal 'Disappointing'
The US president also decided to reinstate sanctions against Tehran, previously eased under the multilateral agreement in exchange for Tehran maintaining a peaceful nature of its nuclear program.