In what is yet another example of alleged racial profiling caught on camera, a white man from North Carolina was filmed calling the police on a black woman who was minding her own business and trying to go for a swim at her community pool. Say hello to #IDAdam, folks.
The latest incident, which took place on Wednesday, was filmed and shared on Facebook by Jazmine Abhulimen, the resident who was targeted. Abhulimen, who goes by the name Jasmine Edwards on Facebook, posted the video with the caption: "racial profiling at its worst!"
​"Where does it say that I have to show an ID to use my own pool," Abhulimen says. "Where does it say that? Nobody else was asked to show their ID."
"I feel this is racial profiling, I am the only black person here with my son in the pool… and he walked only to me to ask for my ID," she adds.
With officers from the Winston-Salem Police Department already on the grounds when the video begins, the man, later identified as Adam Bloom, responds to Abhulimen's remarks by saying that he regularly asks for the IDs of pool-goers.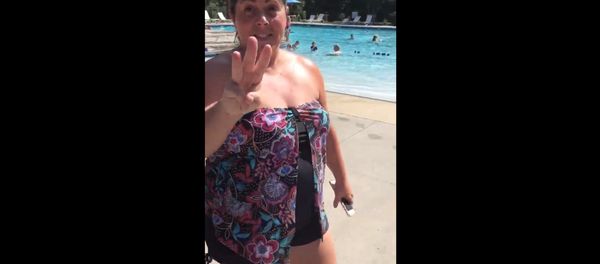 For the remainder of the four-minute video, officers listen to a recounting of the events prior to their arrival and explain to Bloom that Abhulimen is not required to show any identification to enter the premises as she only needs to have her keycard to use the pool.
Since the Fourth of July incident, it was revealed on Friday that Bloom has parted ways with his employer, global packaging firm Sonoco Products. It's not clear if he was fired or opted to resign over the pool ordeal. However, the North Carolina resident did resign on Thursday from the roles of pool chair and board member of the homeowners' association of Glenridge, NBC News reported.
Aside from Pool Patrol Paula, Bloom joins the likes of Newport Nancy, BBQ Becky and Permit Patty. The group is a growing list of people who choose to call the local police on black community members for no valid reason.