The T4 airbase, also known as the Tiyas Military Air base, is reportedly used by Iranian forces. An army officer in the southern Syrian desert claimed that the air defense systems shot down projectiles allegedly launched from south of the Tanf region toward the T4 air base.
Rami Abdel Rahman, head of the Britain-based Syrian Observatory for Human Rights claimed that a missile shelling targetet "Iranian fighters" at the T4 Air base, AFP Reported.
Israeli missiles targeted the T4 Air base in Homs in an attack on Sunday night, Syrian state media said citing a military source, Reuters reported.
"Our air defence systems thwarted an Israeli aggression and brought down a number of missiles that were targeting the T4 airport," a source told Syrian state media as quoted by Reuters adding that the air defences hit one of the "attacking planes and forced the rest to leave" Syria's air space.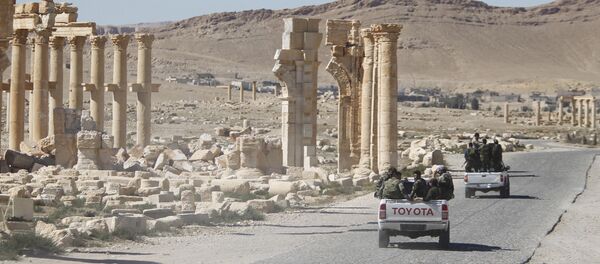 In April, an alleged Israeli missile strike targeted the T4 Air base, reportedly killing at least four Iranian military advisers.
The Israeli-Syrian relations are strained, particularly over the disputed Golan Heights. Israel occupied the region in the 1967 Six-Day War with Syria and annexed the territory in 1981. The international community has not recognized the annexation.
Israel has repeatedly expressed its opposition to the presence of Iranian and pro-Iranian forces in Syria.
In June, Syrian Foreign Minister Walid Muallem said that Iran's military presence in Syria was misinterpreted by Israel amid escalating tensions, stressing that Tehran's presence in Syria was limited to the work of its military advisers on the Syrian Army's side