Speaking to lawmakers on Monday, Macron said that the "greatness of France" was his government's main ideology.
The president said that his government's controversial socioeconomic reform agenda, which has been criticized by opponents for its pro-business slant, has given France a new impetus for development.
"This project can be implemented only if we end the self-denial in which we have persisted for 40 years and under which France is only a mid-size power. This idea has strangled and immobilized us," Macron said.
According to the president, he wants to "reaffirm that vision of France" on the world stage "which was lost after years of excessive timidity and intellectual calmness."
"I believe that France has the strength to once again become a leading power in the 21st century, and in order to realize this project, we are proceeding from reality, and will not limit ourselves to stagnant ideas and old conflicts. Progress, the dignity of the individual, the just strength of the Republic, these will be the main coordinates on our compass, and we have enough of them. Our only ideology is the greatness of France, no matter how much someone may not like it."
In his year in office, Macron pushed through corporate tax cuts and eased labor laws, and succeeded in reorganizing France's state railway amid union resistance. Critics, including members of his own La Republique En Marche party, have criticized him for doing too little for France's working class. Criticism is also mounting over what opponents see as a bonapartist drift, citing Macron's threats to override resistance to parliamentary reform via referendum.
Greater European Unity Needed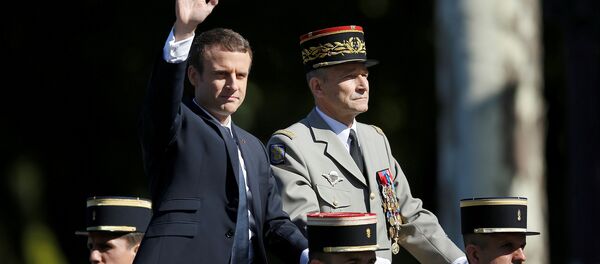 On the European front, Macron called for more unity among the EU in solving problems concerning the continent, with France being able to tackle its problems "only by combining its forces with those of its historical partners. Neither commercial issues, nor climate, nor financial and economic problems, not to mention migration, can be solved alone," the president stressed.
"We need a more sovereign Europe, more united and more democratic," Macron stressed, noting that today's Europe was "too slow," "fragmented" and "bogged down in bureaucracy." 
The president called for a "more ambitious" European-wide migration policy based on partnerships with African countries to provide prospects for African youths in their home countries.
Macron also slammed what he called a "nationalistic policy" on migration, saying such policy merely transfers the burden to other countries, giving rise to further disagreements between nations.
"France will never agree with those simplistic decisions expressed about deportations in Europe and the placing of people which no country wants to take into special camps on its borders, on its territory or outside of it," he said. Europe needs a "diversified" approach to migration, according to Macron, taking account of factors such as whether the source country is in a state of war or not.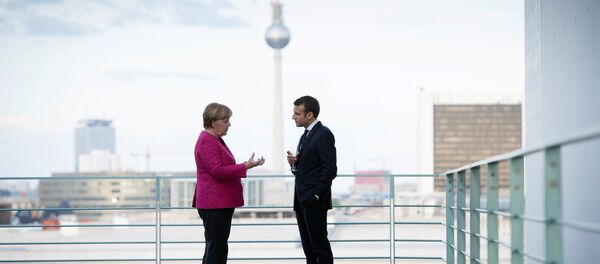 "The real border in Europe is the one separating progressives from the nationalists," Macron said.
Ultimately, the president said he was "humble, but resolute" in working to fulfill his agenda. "The president has an obligation to aim high, and I do not intend to fail with this obligation," he stressed.
France has been critical of countries such as Italy, Austria and the Visegrad Group of nations amid their governments' growing resistance to European migration policy. Last month, Italian Deputy Prime Minister Matteo Salvini called Macron "arrogant" for his criticism of Italy's decision to turn away volunteer rescue ships in the Mediterranean. Salvini invited Macron to "stop insulting" Rome and to "show some concrete generosity by opening up France's many ports" to migrants.