New Delhi (Sputnik) — India's customs officials have arrested a Chinese woman at Indira Gandhi International Airport in New Delhi for allegedly trying to smuggle gold worth over $8,900 into the country.
"The passenger was intercepted after her arrival from Hong Kong on Friday. Her baggage search resulted in the recovery of two gold bars weighing 2 kg and having a market value of INR 61 lakh ($8,900)," a customs official said.  
READ MORE: Digging for Gold? Indian Man Caught Smuggling Bars Into Country Via Rectum
Last month, six Chinese nationals, including four women, were arrested at Delhi airport for trying to smuggle six kilograms of gold into the country. Some of them had concealed the gold in their rectums.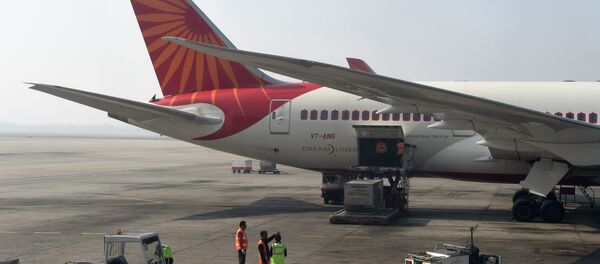 24 January 2018, 18:07 GMT
In February, five Chinese nationals had been arrested at Delhi airport in two separate incidents. In both cases, the accused were intercepted after arriving from Hong Kong.
"Increased seizures by tax officials, especially at major airports clearly indicate that illegal trade of gold has been on an upswing not only in South India but in other parts of the country as well," Sachin Menon, head of indirect tax at KPMG India, was quoted as saying by Livemint.  
READ MORE: The Golden Bum: Sri Lankan Officials Arrest Man Smuggling Gold in Rectum
There is a perception in India that the new sales tax regime, namely the goods and services tax (GST), has fueled the increase in gold smuggling. The present law provides an exemption to traders on the purchase of old gold jewelry from unregistered individuals. Experts said that gold jewelers import gold through illicit channels and show them in the books as purchases of old gold, ultimately evading tax.