The "Novichok" saga continues, as two British citizens have allegedly fallen victim to the A234 nerve agent in Amesbury, Wiltshire. One of these was Dawn Sturgess, age 44, who died as a result of the alleged poisoning on July 8.
Following the incident, the UK government called on Russia for explanations, which raised many eyebrows in Moscow. Kremlin spokesman Dmitry Peskov stated that any references to Russia in relation to the Amesbury poisoning "would be quite absurd." However, it has not prevented UK Defense Secretary Gavin Williamson from blaming the incident on Russia.
"It seems that being near Britain's own infamous chemical weapons lab at Porton Down is a far greater risk to one's health than having any associations with Russia it appears that a government that cannot even keep track of its own citizens who happen to be black, can neither keep track of its own dangerous chemical weapons," Adam Garrie, a geopolitical analyst and director at Eurasia Future told Sputnik.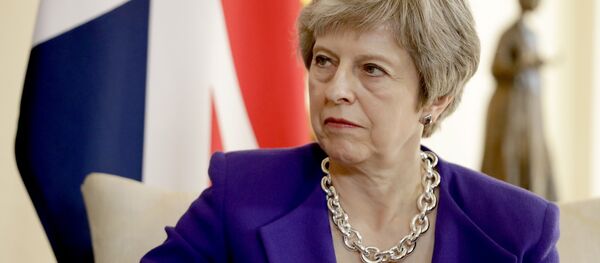 Earlier, in March 2018, former Russian double-agent Sergei Skripal and his daughter Yulia were found unconscious on a bench at a shopping center in Salisbury. London and its allies rushed to point the finger of blame at Moscow, which they accused of having poisoned the two with what they deemed was the A234 chemical substance, without presenting any evidence to back the claims.
The relatively rapid recovery of Yulia and Sergei Skripal appeared to be nothing short of a miracle, given that the A234 was regarded as an extremely poisonous nerve agent.
READ MORE: Skripal Case No Longer the Case: How Russia May Turn Into EU's Darling Soon
On June 30, Dawn Sturgess and Charlie Rowley, 45, were found unconscious in the southern English city of Amesbury near Salisbury. It was later announced that the man and the woman were exposed to the same substance that contaminated the Skripals. Sturgess' death prompted the British police to launch a murder inquiry into the case.
"No credible evidence has been presented that any nerve agent was used in an attack on the woman who is now dead," Garrie pointed out, commenting on the issue. "Thus, there's no evidence it was even a murder, let alone one with a 'Russian' nerve agent."
He referred to the fact that an initial police report suggested that the two persons were taking hard drugs, with police naming cocaine and heroin as two possibilities. Given the UK's domestic drug problems, "it is perverse to jump to such conclusions regarding Novichok when street narcotics are a far more likely explanation for the woman's demise," he remarked.
READ MORE: Deadly A234? Two Guinea Pigs, a Cat the Only Casualties in the Skripal Case
"The timing of the entire Novichok saga means that the official narrative in the UK is increasingly implausible in this sense too," the analyst presumed. "How is it that 100 days before the World Cup two people get poisoned and Russia is to blame (for reasons no one can really explain), then between an historic Russian victory in the World Cup over Spain and England's match against another two people get poisoned and now, just after England advances into the semi-finals, one of the people in question dies."
Besides being apparently related to the FIFA's event, "it may also have a lot to do with Donald Trump's meeting with Vladimir Putin," Garrie suggested, citing the upcoming Helsinki meeting between the two presidents, which is due to take place on July 16, a few days after the NATO summit.
© REUTERS / Henry Nicholls
Fire and Rescue Service personel prepare safety equipment at the site of a housing estate on Muggleton Road, after it was confirmed that two people had been poisoned with the nerve-agent Novichok, in Amesbury, Britain, July 6, 2018.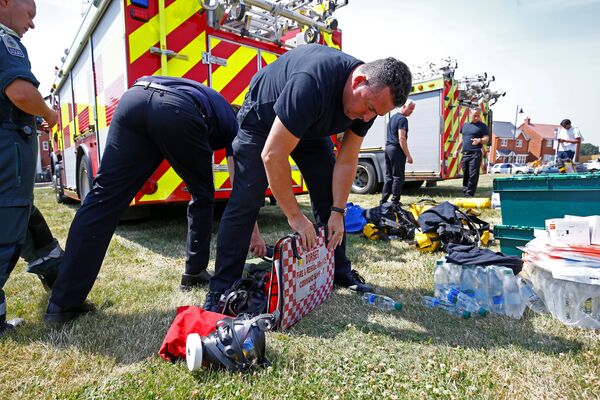 Fire and Rescue Service personel prepare safety equipment at the site of a housing estate on Muggleton Road, after it was confirmed that two people had been poisoned with the nerve-agent Novichok, in Amesbury, Britain, July 6, 2018.
'Novichok Provocations Could Be Deliberately Planned'
Still, the situation appears to be somewhat sinister, as it remains unclear what is really going on, on British soil.
According to the geopolitical analyst, it seems that no one knows what is actually going on or "at least those who are supposed to know aren't telling anyone." He suggested that either the authorities are "covering up their own incompetence" or "are simply withholding the truth from the public."
"In all likelihood, based on the timing of the events surrounding this Novichok matter (all surrounding important pre-World Cup or World Cup milestones) the provocations were deliberately planned by some malign force that seeks to slander Russia's reputation at a time when its greatest cities welcome the world to what has thus far been one of the finest World Cups of the modern era," Garrie opined.
The views and opinions expressed by the contributors do not necessarily reflect those of Sputnik.