Iran has indicated that it will shelve all privileges extended to India in bilateral trade, including payments in rupees, if the Indian government cuts back on oil imports from the country after US sanctions kick in on November 4.
Iran is India's third-largest oil supplier and accounted for approximately 10 percent of India's total crude purchases last year.
READ MORE: India Should Continue Importing Iranian Crude Despite US Sanctions — Analysts
"If India were to replace Iran with countries like Saudi Arabia, Russia, Iraq, US and others for the 10 percent of its oil demand then it may have to revert to dollar-denominated imports which mean higher CAD and deprivation of all other privileges Iran has offered to India," Iran's deputy ambassador to India, Massoud Rezvanian Rahaghi, said while speaking at a seminar in New Delhi.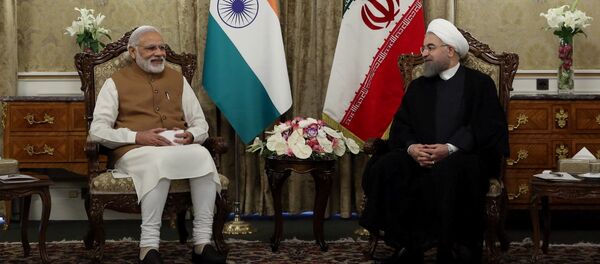 Rahaghi said that Iran has so far done its best to ensure the security of its oil supply to India and offered flexibility through longer-term credits and discounted prices as well as oil payments in rupees, and insurance coverage for oil shipments that facilitate bilateral trade and significantly increase Indian exports to Iran.
The envoy's statement is being seen as a strong indication of Iran's displeasure over New Delhi's mixed reaction to US sanctions. While the minister of external affairs, Sushma Swaraj, had categorically said earlier this year that India would not follow any country-specific sanctions and would continue its trade with Iran, Minister of Petroleum and Natural Gas Dharmendra Pradhan recently stated that the country's requirement would be the deciding factor for oil imports from Iran.  
Meanwhile, the Iranian envoy Massoud Rezvanian Rahaghi has also expressed unhappiness over the tardy progress in the Chabahar project, which New Delhi considers a gateway to Central Asia and Afghanistan.
READ MORE: India to Open Chabahar Port by 2019 Despite US Sanctions on Iran
 "It's unfortunate that Indian investment promises for the expansion of Chabahar port and its connectivity projects have not been accomplished so far, and it is expected that India takes immediately necessary measures in this regard if its cooperation and engagement in Chabahar port is really of strategic nature," the Iranian diplomat said.