However, the declaration reads further that the bloc remains open to dialogue with Moscow through the NATO-Russia Council
"For over two decades, NATO has worked to build a partnership with Russia, including through the mechanism of the NATO-Russia Council (NRC)… We remain open to a periodic, focused, and meaningful dialogue with a Russia willing to engage on the basis of reciprocity in the NRC, with a view to avoiding misunderstanding, miscalculation, and unintended escalation, and to increase transparency and predictability," the alliance said in a declaration.
In addition, NATO member states called on Russia to withdraw its forces from Georgia, Moldova and Ukraine as well as cease its support to the residents of the Ukrainian Donbass region, who had been in conflict with the Ukrainian central authorities since 2014.
"We reiterate our support for the territorial integrity and sovereignty of Ukraine, Georgia, and the Republic of Moldova within their internationally recognised borders. In accordance with its international commitments, we call on Russia to withdraw the forces it has stationed in all three countries without their consent," the declaration read.
NATO continued by urging Russia to reverse its recognition of independence of Abkhazia and South Ossetia from Georgia following the 2008 conflict, and withdraw its forces from these areas. The alliance also called on Moscow to withdraw its troops from Moldova and engage in the Transnistria settlement process.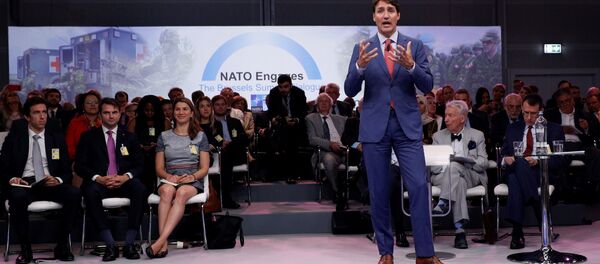 NATO has repeatedly accused Russia of having illegally deployed its personnel in Georgia and Moldova, and meddling with the conflict in eastern Ukraine.
Russian officials have rejected these claims, repeatedly stressing that Moscow does not interfere in other states' affairs and pointing out that the accusations were put forward without any evidence to support them.
Earlier in the day, NATO Secretary-General Jens Stoltenberg urged not to isolate Russia because of the problems existing between Moscow and NATO member-states, stressing the necessity of dialogue with Russia.
On Iran
The alliance also expressed its concern over Iran's activities in the wake of Washington's withdrawal from the Joint Comprehensive Plan of Action (JCPOA), also known as the Iranian nuclear deal.
"We are concerned by Iran's intensified missile tests and the range and precision of its ballistic missiles and by Iran's destabilising activities in the wider Middle East region," the declaration read.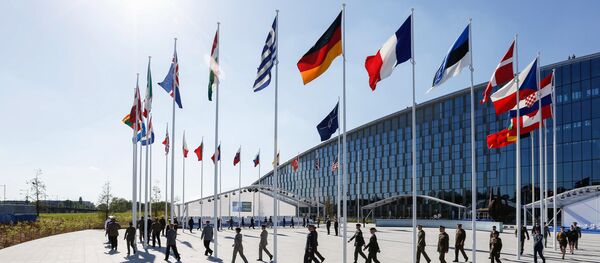 During his first foreign policy speech in May, US Secretary of State Mike Pompeo outlined a list of 12 demands for Iran after Washington's unilateral pullout from the nuclear agreement. Apart from nuclear non-proliferation, Washington demanded that Tehran change its policies in the region, in particular, to stop the development of ballistic missiles.
The two-day NATO summit kicked off in Brussels on July 11, bringing together heads of state and government of the 29-nation military alliance.