The desire to update the Boeing 747s' external look is aimed at giving the plane a "more American" appearance, the report says. There is said to be some disagreement about the plane's aesthetics: some US Air Force officials reportedly prefer the current color scheme, which has been around for 55 years.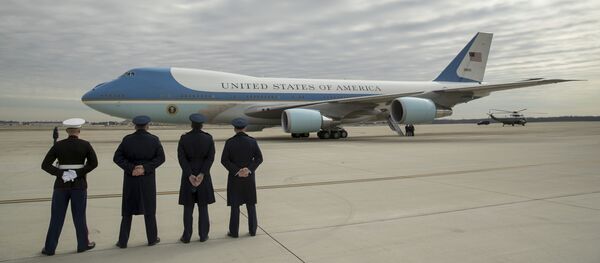 27 February 2018, 19:05 GMT
While the US Air Force originally said in August 2017 that it was purchasing two Boeing aircraft built for former Russian commercial airliner Transaero before the company went defunct, Trump sat down in February with Boeing chief executive officer Dennis Muilenburg and struck a deal for two brand-new 747s for $3.9 billion. Just after his election, on December 6, 2016, Trump had tweeted that he would get the cost reduced from $4 billion, noting that "costs are out of control… Cancel order!"
The new Air Force One aircraft are not set to enter service until at least 2021, Axios notes, meaning that the only scenario in which Trump would fly on the redesigned Air Force One would be if he wins re-election in 2020.