A day after arriving in Belgium with First Lady Melania Trump, where the headquarters of the North Atlantic Treaty Organization is located, he jumped into the yearly summit by doing what he does best: berate the US' European allies.
During a breakfast meeting with NATO Secretary-General Jens Stoltenberg, Trump went straight for the throat by criticizing Germany's 2015 pipeline deal with Russia, calling Berlin a "captive of Russia," before diving headfirst on the debate on sharing the burden of NATO's collective defense budget.
"Many countries are not paying what they should and, frankly, many countries owe us a tremendous amount of money from many years back," Trump told Stoltenberg. "They're delinquent, as far as I'm concerned, because the United States has had to pay for them."
Though the debate over burden-sharing has been going on for years, Trump's attack against Germany touches on a fairly recent controversy in which German Chancellor Angela Merkel cleared the way in March for Russian energy giant Gazprom to build the Nord Stream 2 gas pipeline through German territorial waters.
​But Trump's rhetoric isn't exactly new and refreshing material, Sleboda told Radio Sputnik's Loud & Clear on Wednesday.
"What Donald Trump has been saying has been said by previous US administrations, whether the concern about spending or the concern about the Nord Stream 2 pipeline," Sleboda told hosts Brian Becker and John Kiriakou. "These are all things that have been said by other administrations, but the primary difference is that they haven't been said with as much force and they haven't been said by the presidents themselves… especially sitting across the table from the NATO Secretary-General."
"They've said them at lower levels… in policy papers, general statements and so on, but certainly not with the acrimony that Donald Trump confronted an absolutely speechless and befuddled Jens Stoltenberg with, [who was] sitting directly across the table as Trump lambasted and scolded him as a child," he added.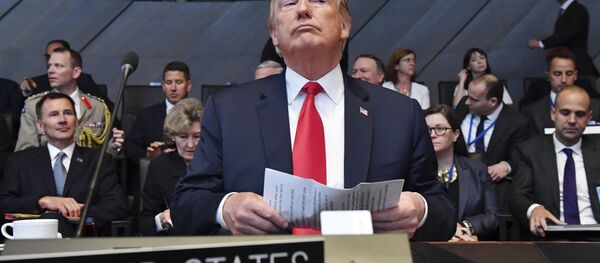 When asked whether Trump's antics were just part of a show for the media, the analyst told Kiriakou that it likely wasn't.
"I don't think the attitude is that much different behind the scene," he said. "I honestly think that Trump has a great deal of personal dislike for Angela Merkel and other European leaders and bureaucrats like Jens Stoltenberg."
"You have to remember that quite a number of the leaders of European states openly endorsed Hillary Clinton for president and those that didn't, like Germany, their state media was wall-to-wall anti-Trump during the entire campaign… Trump remembers and, I believe, that a great deal of his motivation here is simply personal — it's payback," he continued.
"He also has long spoken that he feels that NATO is in many ways wasteful for the United States [as] it spends large amounts of money and it gets little in return."
Sleboda went on to note that the requirement to spend 2 percent of GDP on defense, which former US President Barack Obama pushed for during his time in office, had always been a NATO guideline for burden-sharing after the alliance agreed to it in 2014, it just didn't receive much attention. Now, of course, that isn't the case anymore, thanks to POTUS.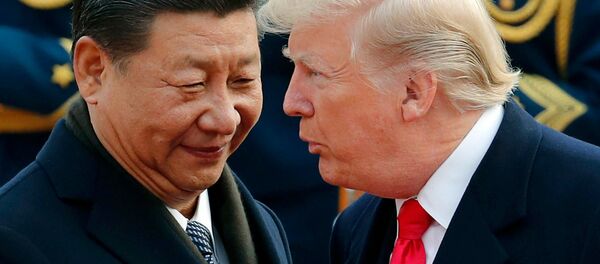 But when it comes to Trump's critiques of Germany's pipeline deal, it's "a bit of economic thuggery" on Trump's part.
"Trump wants European countries to buy more American arms and on top of that the thing with the gas, of course, is a bit of economic thuggery because he doesn't want Germany to buy cheap, reliable Russian gas shipped via pipeline," Sleboda explained to Becker.
"He wants Germany to buy much more expensive, much less reliable American fracking gas shipped via LNG [liquified natural gas] tankers, which is always much, much more expensive and would be a much bigger drain on the German economy and make their economy much less competitive if they had to do this," he analyst noted.
Despite all his condemnation of NATO members, Trump did eventually sign a joint declaration on Wednesday that emphasized the enduring strength of the organization and reaffirmed previously established commitments, the New York Times reported.