Beyazit Karatas, deputy head of the non-parliament left-wing Turkish party Vatan, suggested that the next few months will see more US pressure on Ankara over the supply of S-400 missile launchers to Turkey.
"Washington will use the current domestic situation in Turkey, which implemented a transition to a new model of governance, in order to continue exerting pressure on Ankara and prevent the implementation of a deal on the S-400 deliveries," he noted.
READ MORE: S-400 Can Support Air Defense System of a NATO Member – Turkish Analyst
Referring to the Pentagon's fears that the S-400s could be able to pick up technical data on the F-35's capabilities and pass it to Moscow, Bozkurt said in this vein that by issuing similar allegations "the US makes a fool of itself."
"China, for example, has long received all the necessary information on the F-35 and developed its own model of this aircraft, namely, the J-31. So such statements on part of Washington look simply absurd and show that the US is no longer able to find a more thoughtful pretext [ to scrap the deal on F-35 supplies to Turkey]," he pointed out.
READ MORE: Turkish Ex-General: Ankara-Moscow S-400 Deal a 'Response to US' Threats'
Turkish political analyst Ceyhun Bozkurt, for his part, told Sputnik that in order to understand the cause of the US's concerns over Ankara's purchase of the S-400 systems, "it is necessary to look at the situation around Turkey."
He specifically referred to regions of the Aegean Sea and the Eastern Mediterranean, which Bozkurt said "can be compared to a time bomb." According to him, Turkey is also facing "a significant terrorist threat" emanating from Syria and Iraq as well as threats related to aggravation of the conflict between Azerbaijan and Armenia and the ongoing pressure on Iran.
READ MORE: 'Ill-Advised Policy': Turkish President Slams US Move to Block F-35 Sale
"In these difficult conditions, Turkey must create its own air defense system," Bozkurt underlined.
He added that "if you look at the above-mentioned regions with an increased level of tension, you can see that in almost all of them the US holds the opposite position as compared with Turkey's."
In this context, he recalled that the US military recently sent a new batch of trucks with heavy weapons, ammunition and armored vehicles to the Kurdish units in Syria.
READ MORE: 'Just the Start': US-Turkey F-35 Row May Be Followed by Sanctions — Prof
"This weapon will be used against Turkey in case of possible hostilities. So if the US does not plan to attack Turkey or support those who intend to attack it, they don't need to be afraid of the S-400 deal. If the American goal is to deprive Turkey of the defense system and attack it, then this is a completely different matter," Bozkurt concluded.
In late June, US Assistant Secretary of State for European and Eurasian Affairs Wess Mitchell warned that that Washington will slap sanctions on Turkey if it buys Russia's S-400 air defense systems.
She added that the US may withhold the transfer of its F-35 combat aircraft to Turkey over national security concerns if Ankara decided to purchase the S-400s.
READ MORE: US Threatens Turkey With 'Ripple Effect' for F-35 Deal Amid Row Over S-400
Also in June, CNN reported that US lawmakers and the Pentagon fear that if plugged into Turkey's integrated air defense network, the S-400s could be able to pick up technical data on the F-35's capabilities and pass it to Moscow.
"It's totally nuts to hand the Russians the keys to the mission capabilities of the F-35 and allow them to try to detect and then exploit any vulnerabilities," Democratic Senator Chris Van Hollen told CNN.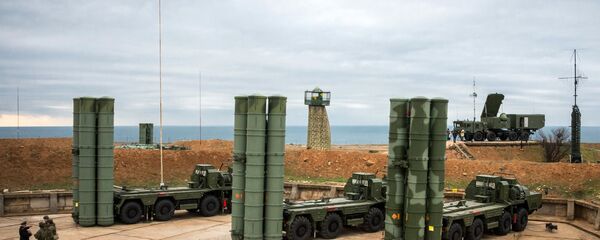 The statement came amid Congressional efforts to block the delivery of F-35 combat aircraft to Ankara. Earlier, Turkey placed orders for 30 US-made F-35A fighter jets, and intends to order 70 more as part of the Joint Strike Fighter (JSF) project, which involves 10 countries and produces various versions of the plane.
The contract arrangements between Turkey and Russia on the purchase of S-400 were confirmed by Russia on September 12, 2017 as Turkish President Tayyip Erdogan said that prepayment of the contract had already been made.
The views and opinions expressed in this article are those of the speaker and do not necessarily reflect those of Sputnik.